"We Stand With Ukraine"
Diversity Club and junior Dmytro Kolisnyk host presentation and fundraiser to support Ukraine
March 21, 2022
It's been over three weeks since Russian President Vladimir Putin ordered Russian forces to invade Ukraine on Thursday, February 24. Within that time, over 726 civilians have been killed and over 3.2 million have fled. For junior Dmytro Kolisnyk, who only moved to Norwood from Ukraine eight months ago, this news was especially heartbreaking. 
Not only is Ukraine his homeland, but his father, grandmother, cousins, and friends remain there. After seeing what was happening there and what his loved ones were facing, Kolisnyk wanted to spread awareness. As a result, on Friday, March 11, he collaborated with the Diversity Club to provide insight about the war in Ukraine. All students were welcome to attend.
"I could not just stand aside, knowing that my homeland is being bombed with rockets that kill civilians, destroying my country," he said.
In the presentation, Kolisnyk covered the history of relations between Ukraine and Russia, why Russia launched the invasion, what Ukrainians are currently experiencing, and what students can do to offer their support.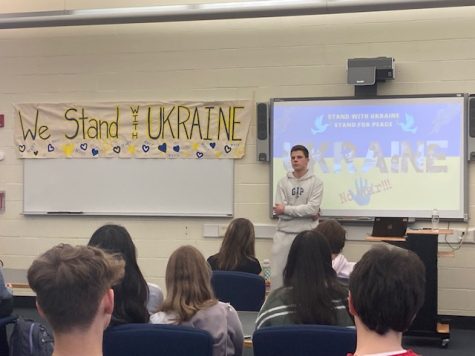 Kolisnyk wanted to "make it clear to people that [he] came to ask for help, and not just to listen and remain different in this situation." He believes it is important for students to understand that "while [they] are living a normal daily life, in Ukraine, people are fighting for their survival. And the least we can do to help them is to spread the word." 
His history teacher, Jennifer Fernandez, who assisted in organizing the presentation, said the main goal was to offer "a genuine explanation as to why we should all care about this devastating humanitarian crisis."
Kolisnyk also featured videos and images of Ukraine's landscapes, cities, inventions, history, and people to give students a glimpse into Ukrainian life and culture before the attacks. Diversity Club advisor Hollie Fox said the presentation helped her to see "how immensely proud Ukrainians are of their country" and the "amazing inventions we still use today [that] were invented in Ukraine."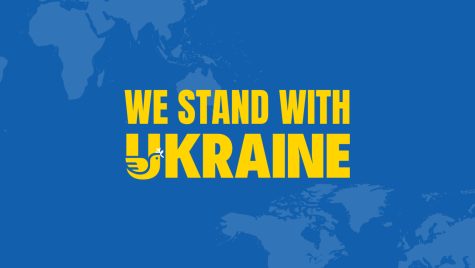 The presentation was also well-received by students. Sophomore Abigail Dennis said that it was an eye-opening experience for her: "I knew how tragic the situation was in Ukraine, but seeing someone who had family and direct relations to Ukraine made it so much more real…it made me want to help in any way I can."
Dennis's inclination to help is exactly how Kolisnyk hoped people would respond. He said, "People should unite to solve the problems of mankind…it is the unification of people against a common grief that can put an end to this war. Without unity, there is no strength." 
The Diversity Club will also be hosting a bake sale on Monday, March 21 after school by the main entrance. All proceeds will go to Razom for Ukraine, an organization that provides humanitarian aid to Ukrainians and Ukrainian refugees.