100th Hit From Chicago Commit
Senior Olivia Cataldo reaches softball milestone
April 29, 2022
When a batter steps up to the plate, the best-case scenario is a hit: making contact with the ball and running to get on base. For the average batter, they're lucky to be getting on base at least once during a game. But for senior Olivia Cataldo, hitting is the easy part. In fact, it's her specialty. Cataldo earned her 100th career hit on Wednesday, April 27.
The past four years of dedication to the softball program have earned Cataldo her 100 career hits — a milestone that she accomplished in only three years of playing, since COVID-19 canceled her sophomore season. 
For Cataldo, it was the support she received after getting her 100th hit that meant the most. "I was clueless I just hit my 100th, but when I looked into the bleachers and saw all my friends and parents holding up posters and balloons, sharing the special moment with me, that feeling was more powerful than the hit itself," she said. 
As a freshman, Cataldo had the highest batting average on her team with .450. She put up 36 hits, 29 RBIs and 5 home runs, despite facing an ankle injury that sidelined her for the last five games of the season. 
With her sophomore season canceled, Cataldo picked up where she left off as she headed into her junior year, posting 40 hits, 35 RBIs, and breaking NVOT's single season home run record with 11 home runs. 
Coming back as a captain her senior year, Cataldo was now prepared to lead her team and continue her success on the field. This season, Cataldo has 26 hits, 27 RBIs, and 4 home runs through 15 games so far.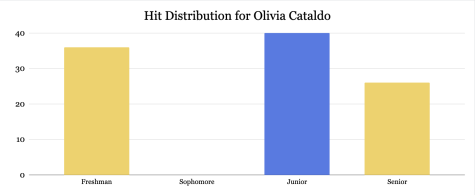 Her teammate, Isabella Chugranis, noted how proud she is of Cataldo's achievement: "She is a vocal leader and someone I have always looked up to. This is one of many more accomplishments she will have over the course of her career." 
Cataldo's impressive skills, both on the field and in the classroom, have led her to continue her career at the collegiate level. Cataldo will attend the University of Chicago, joining their women's softball program next year. "This accomplishment just shows how far I have come in my career and how much more I have to achieve," she said.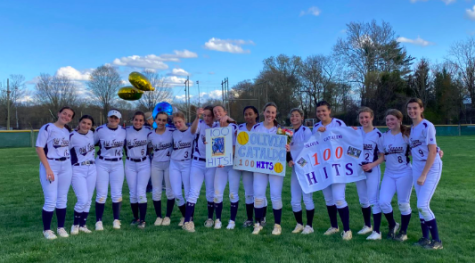 As for the Golden Knights, Cataldo's work at the high school level is far from done. The girls currently hold a 12-3 record, thanks in part to Cataldo's big hits at bat. 
The Golden Knights are ranked third in the County Tournament and won their first game on April 28 against New Milford 16-0, where Cataldo contributed two home runs. 
The team will play in the second round of the county tournament on Saturday, May 7 against the winner of Pascack Valley and River Dell.