GermaNO Way You Get A Hit
Senior Raegen Germano pitches her 500th strikeout
May 12, 2022
If you think gym softball can get intense, try getting a hit against Raegen Germano. On Wednesday, May 11, the senior threw her 500th strikeout, a milestone she accomplished in just a little over two years of varsity play. 
Germano joined the varsity squad her freshman year as one of three pitchers on the team. By the end of the season, her importance to the program was clear as Germano pitched in the county final, making her only one of two freshmen to ever pitch a county championship. 
While her sophomore season was canceled due to COVID-19, Germano grinded in the off-season, and used the extra time off to come back her junior year and make her mark on the program. "A lot of what I do is behind the scenes," said Germano. "I go to pitching lessons two or three times a week and CrossFit at least four times a week in the offseason. I'm constantly working out on my own." 
Germano's work in the off-season paid off—during the 2021 season, the girls went 18-6 and reached the quater-finals in both the county and state tournaments, with Germano's leadership on the mound as she pitched 215 strikeouts.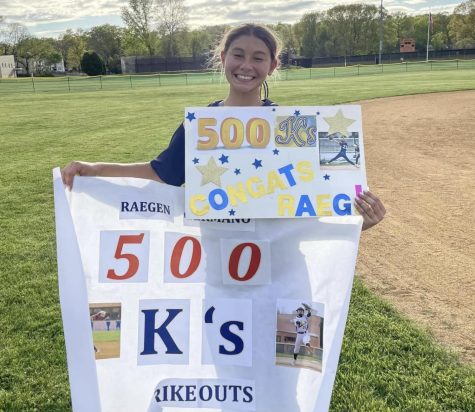 A captain her senior year, Germano was now prepared to lead her team. This season, Germano so far has 232 strikeouts with a personal 18-5 record. While throwing strikes is Germano's main goal, she also has a responsibility to keep her composure on the mound at all times. "Being a pitcher puts a lot of stress on a person because they are the center of attention the whole game," said teammate Grayson Housley. "She just plays the position perfectly and doesn't let the pressure get to her," Housley added. 
Germano's other fellow teammate, senior Olivia Cataldo, has been playing softball with Germano since the age of nine. "The team's intensity and drive is unmatched with her on the mound," Cataldo explained. "She is a vital role to our team and without her we would not be the successful and determined program we are today."
Pitching her 500th strikeout wasn't Germano's only accomplishment this season; Germano was recognized by the Bergen Record for her consistent efforts, earning her Athlete of the Week on April 7. 
For Germano, the accolades are a nice addition, but she pitches simply because she just loves the game: "I never feel like I have to do this, I want to do this," she said. 
Germano's power on the mound is at an all time high, and the girls hope to capitalize on this momentum as they head into their next round of counties on Saturday, May 14 against the Fair Lawn Cutters.