Painting For Saturday's Generation
Art teacher Donna Dolby designs and paints Bloomingdales' 150th Anniversary Mural.
October 21, 2022
With just a sharpened pencil in her hand and a blank wall in front of her, art teacher Donna Dolby begins to illustrate 150 years of history.
After 20 hours of designing, sketching, and painting, Dolby finally finished her Bloomingdale's 150th Anniversary mural at the store's Riverside Square Mall location on September 10. This event was held across all Bloomingdale's locations as a tribute to their clientele, nicknamed the "Saturday's Generation" in the 1970s.
Bloomingdale's contacted Dolby through Instagram direct message after they discovered her professional Instagram account and website.  According to Dolby, she accepted this job because "I saw an opportunity to bring art to the community as a public work in a mall and also to get exposure for my art business in a demographic that I may not have been given access to otherwise."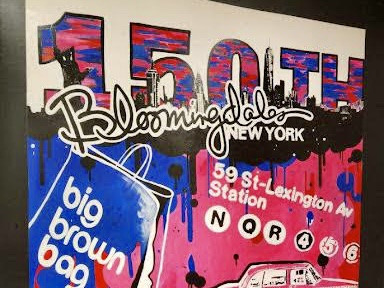 The guidelines given to Dolby determined the art style, theme, and color scheme for her painting—the rest of the design was left completely up to her. Her inspiration for the rest of the mural was the 1970s Bloomingdale's logo: "I researched Bloomie's history and found [that] their logo from the 1970's was a perfect handwriting font, so I decided to incorporate it into the design." Dolby also chose to add the Bloomingdales' iconic Big Brown Bag and the 59 St- Lexington Ave subway station into the design as a nod to their New York City flagship store. Dolby further included the city's skyline into the background of her painting and a taxi cab specifically to enhance the New York City theme. 
Though she has over 20 years of experience painting murals, this job did not come without challenges. "When I paint I am laser focused and do not take many breaks, so by the end I am absolutely exhausted," she said. "It's still exciting to see it come to life!" 
After completing the mural, Dolby has high hopes for the future: "I knew [Bloomingdales] would appreciate what I do and be open to possibly offering future opportunities. I can only pray that the right doors open."