Dirty Rotten Dance Captains
March 23, 2023
It's a huge undertaking to be in the annual all-school musical—a massive project that turns students into actors, singers, designers, and, for senior Kyra Baily and junior Ava Gallucci: dance captains. 
Baily and Gallucci were brought together to lead their peers for this year's musical, Dirty Rotten Scoundrels. As dance captains, the two dancers were responsible for knowing the entire cast's choreography and formations throughout the show. Alongside the official choreographers Caitlin Ort and Morgan Blanchard, the girls also choreographed the number "Love is My Legs" in Act 2 and the full company bows at the end of the show.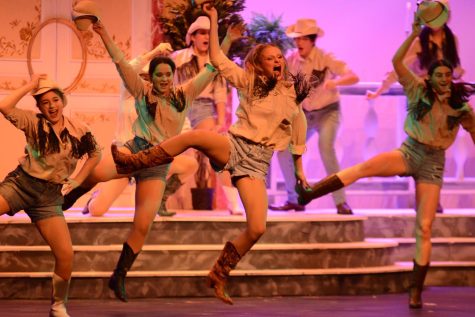 Coming from the same competitive dance background, Baily and Gallucci have been dancing since they were three and two years old respectively— both at their mothers' individual studios. Their similarities in dance background carried onto the stage seamlessly. "Me and Ava are very similar in that we love performing on stage," said Baily. "Even the other day we were just talking about the excitement of show-week and how we can't wait to be on stage together and have that adrenaline rush." 
On stage, the duo carries not just their dynamic experience as dancers, but the energy of dance that is contagious to the other cast members. "Working with this cast was an unforgettable experience," said Gallucci. "Everyone always gave 150% effort in rehearsal and there was never a dull moment." 
Baily and Gallucci were able to feed off of each other's energies on stage— a dynamic unique to their experiences as dancers and bond as friends. According to Baily, their love of dance is what makes the experience enjoyable to those around them. "Knowing other people are enjoying it is what makes it so amazing. We motivate each other to be better."
"My favorite part of the musical this year has been the people in it and working with everyone to make it the best show it can be," said Gallucci.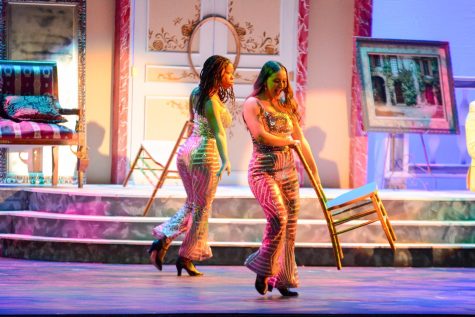 With delays in the production, Baily and Gallucci worked tirelessly to perfect the show themselves before the new show dates. "Ava and Kyra were not only answering questions but running entire rehearsals," explained senior Zoe Fleury. "Without them working together, we would've never been able to put the show together."