Jill Malesardi and Kathy Graef
The story of what brought therapy dogs owners to NVOT
April 19, 2023
Everyone has heard about Bailey, Parker, and Thor, or seen them walking around the school— but who are the people walking beside our favorite four-legged friends?
The idea of bringing in the fluffy, tail-wagging animals to school came to school psychologist Gina Restivo last spring while trying to find a way to return to pre-COVID normalcy—as the school used to get visits from therapy dogs during school wellness or career days. Restivo thought about private schools having therapy dogs available and wondered: "Can we make that happen on a regular basis at a public school?"
As the idea started taking more shape, Restivo began researching how to bring dogs to NVOT. She was able to find two therapy dog owners, both having more connections to NVOT than expected: Kathy Graef, the owner of golden retrievers Parker and Bailey, used to be a math teacher in the district until her retirement, and Thor's owner, Jill Malesardi, has a son currently enrolled at NVOT. 
For Malesardi, her journey as a therapy dog owner started only a year and a half ago. She loved volunteering, previously volunteering in a soup kitchen, but wanted to find something else that she liked. Graef introduced her to the therapy dog world, saying, "After meeting Jill, I felt her devotion would be a wonderful addition." 
Malesardi knew it was perfect. She says, "I love being around people, I love seeing people be happy because of being around dogs. It's like the simplest pleasure." Her favorite part is seeing people's reactions when they unexpectedly run into Thor in the hallways and how "everyone just melts [and] nobody's thinking about stress or a bad test or family dynamics." 
What makes a regular dog a therapy dog? For Malesardi, it all depends on whether a dog is mellow or not. She says that her black labrador had to learn to be "okay with a stranger touching her ear [or] tail, sudden loud noises, [and with being] around other dogs, in case there's another therapy dog, [and] she has to be okay with leaving something on the ground."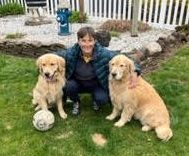 Graef adds that part of having a good therapy dog is being a good owner, as it's "their owners' choices to bring them places" and it's the owner's responsibility to "know their dog and understand what setting is comfortable for them. Just like people, we all have a safe place in this world." 
Having a regular pet become a therapy specialist is simple, as training can be done at home as long as it follows the requirements for the test, and the certification tests can be redone until the canine qualifies. Despite this, Malesardi jokingly adds that even though Thor is trained to avoid eating strange objects on the ground, (such as a pill if they visit an elderly person's house) "but if it's a french fry on the ground then all bets are off." 
Although they were going to go to hospitals and long-term care centers, Malesardi says Thor prefers schools since she's able to walk around freely, get free pets, and smell new things—which is much more entertaining compared to just sitting in a room. They go to NVD and Glen Rock high school as well.
Thor gets so excited to come to school that "she starts whimpering and can't wait to come out of the car to come in." Malesardi adds that it's not only more enjoyable for Thor but it's also work. When the day is over, she says Thor will "sit and she'll look at me and give me eye contact and if I don't pay attention she'll come closer and start nuzzling me. She knows when it's time to go." 
Graef's background with dogs started back when she was in 6th grade, when she got her first dog—an Irish Setter—and got into dog breeding. She says, "Since then, I have had 15 more dogs, most of them being golden retrievers. My dogs always brought me such a calming joy so this morphed into Therapy Dog work." Graef said that they are the best breed for therapy work because they're a "devoted, smart and gentle breed." Despite this, Graef said, "any dog with a calm, smart, and happy personality," can become a good therapy dog. 
Graef says she came back to the school with Parker and Bailey hoping to "give back to the NVOT community." And she has certainly done that, saying she believes high school students are "finding joy and kindness in our visits." 
Graef is satisfied with the work she does for NVOT's community and what she and her golden knights have given, saying, "My heart was very full after being invited to NVOT.  It is wonderful to be back home."
Dr. Restivo believes the animals have made a positive impact on the school and sees it as a wellness method that students genuinely want and enjoy. Although she can't say that it has definitely improved the mental health of students in the long run "because the visits are so random," she's positive that the effort of bringing the therapy dogs in "goes a long way." Hopefully, the beloved therapy dogs and their owners will be able to visit more and see the impact they've made on the students at NVOT.