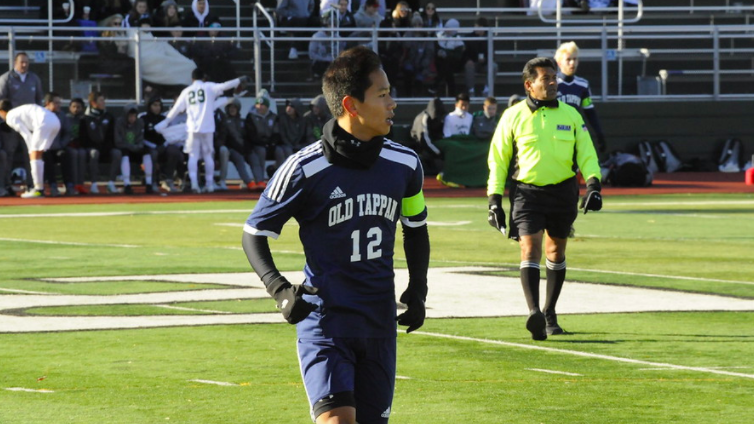 Usually, student athletes play for their high school teams for four years. However, for senior Sam Kang, playing on the school's soccer team was not an option until his senior year.
Kang started playing soccer when he was 8 years old. "I just really wanted to play in college," he said. But, his journey as an athlete was challenging. "In middle school, I was on my way to a soccer tournament when I got into a really bad car accident." Kang suffered a concussion, which took 6 months to recover from. When he came back from his injury, "the first game I came back to, I broke my arm." Out for another 4 months, "I was upset that I wasted a year of not playing," he said.
However, Kang was luckily able to recover in time to play in high school. During his freshman year, he joined the elite soccer club, FC Westchester. This club team did not allow him to play for the school team and during his three years there, he said it was "very, very difficult. There's a lot more traveling. I basically had no weekends because I had to travel a lot to play." Although he knew that it was a once-in-a-lifetime experience and that it would improve his skills, it was an enormous commitment and sacrifice.
There was a point when he wanted to give it all up. According to Kang, he had a big argument with his parents when he told them that he did not want to play club soccer any longer because he wanted to join the school team.  "They tried to force me, but I wasn't having fun and just didn't want to play soccer." But this conflict resolved when he made the "best decision" in his high school career.
His senior year, Kang decided to quit his club team and play for the school team. However, the transition did not immediately change his view about soccer, and head coach Mark Torrie recognized this.
Torrie said, "When I knew Sam as a young kid, he was always smiling and really happy at practice and during games. When he came back this year, [in the beginning], he didn't have the same passion for the sport that I remembered." But a big change that altered his view of soccer was that he, "was already close to a lot of kids on our school team. We were really good friends since middle school and I also knew Coach Torrie, who coached me from 2nd to 5th grade," Kang said. According to captain senior Colin Eifert, the "seniors on the team have a special bond because we played together [since] we were 9 years old."
And Kang came just in time. After losing Peter Livanis last year, the previous season's leading goal scorer, the team had doubts about their performance. But, this "is where Sam came in," said Eifert.
Torrie added, "Sam [became] a forward in our formation and one of the senior leaders." As a good and experienced player, Kang impacted the team with 13 goals and 12 assists, but according to Torrie, it was more than that. "He helped us tactically and his work rate on the field was second to none. With the best player on the park leading by example, everyone else is sure to follow."
He was a "positive player… [who] was never one to criticize [but rather] one to give helpful [advice] to help everyone improve," said Eifert.
Like Torrie, Junior Nick DiPalo noticed the change in Kang's attitude towards soccer. DiPalo acknowledged the leadership role that Kang took both on and off the field. "Sam was a key player… who brought energy to the locker room, encouraging us to work harder," DiPalo said. "There's so much spirit and fans at games that you can see Sam's face light up. He most definitely changed his mind about soccer and definitely had so much fun."
The soccer program was very successful this past season, making it to three semi-final games and two championship games. And in the end, Kang's enjoyment for soccer returned.
"By the end of the season, he had a smile back and his performance matched his enthusiasm," Torrie said.
Kang has had numerous memorable games that he will never forget from this season, the most notable one was winning the state sectionals against Ramapo scoring the winning penalty kick. In the end, Torrie wishes him the best of luck and advises Kang to "keep believing in [himself]. When times get tough, and they will, [utilize the] tools… learned from school and sports… to pull through. Make good decisions… and shoot for the stars. The world is your oyster."
As for now, Kang will get out onto the fields and keep striding towards his goals.