Like Champion Fathers Like Champion Sons
Two football players follow in their father's footsteps
February 16, 2018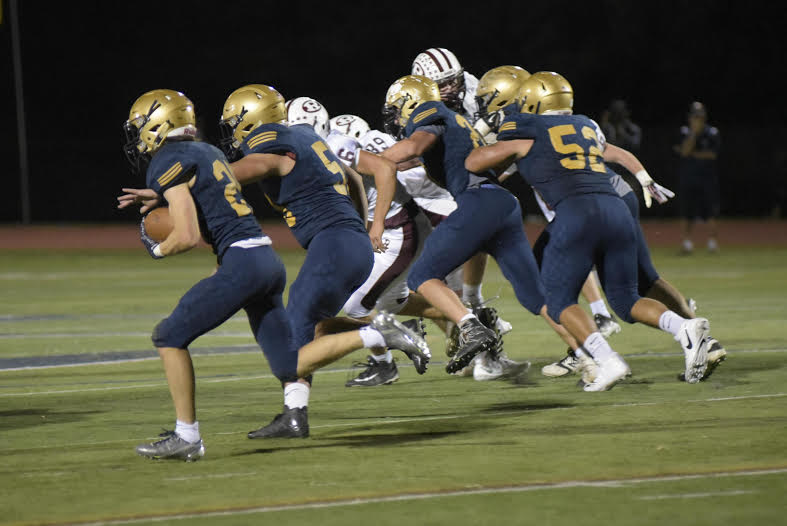 After three straight trips to the North 1 Group 4 State Championship, a visit to Metlife Stadium seems all too regular. At one point, like most schools, even the opportunity to vie for this prestigious title was a rare honor. Before capturing its second State Championship in three years, the Northern Valley Old Tappan Football Team had just one title to its name in its decades of existence. The previous title came during the 1985-1986 season from a squad led by then senior, now Senator, Cory Booker.
Few players who have suited up in the Old Tappan jersey know the prestige of winning that State Championship game. Winning meant the experience that only a few dozen other players know. However, for senior lineman Scott Essmann and sophomore cornerback Niko Orecchio, it also meant the opportunity to follow in their fathers' footsteps. Among those players on the 1985 team who captured the first title were senior fullback Tom Orecchio and senior linebacker Bill Essmann. Thirty years and two championships later, they are happy to share the experience with their sons and as friends.
When the fathers played, the game was just as a big of a deal, but the game was not hosted in a professional stadium. Also, the team was not heavy favorites. Mr. Essmann said, "It was surprising to win as the underdog but exciting at the same time." The team won the title against Wayne Valley at Wayne Valley High School.
On the other hand, Essmann and Orecchio felt honored and humbled to experience the same opportunity as their fathers but at Metlife Stadium. Also, this year's team were heavily favored going into the game. According to Essmann, the privilege to play in a professional stadium was "one of the greatest experiences in my life."
While on the team, both of their fathers were good friends. In fact, they are still friends to this day and relished watching their sons compete together. According to Mr. Orecchio, the two are "lifelong friends" and "couldn't be happier that they got to share the same experience again with their sons."
Meanwhile, as a result of the age gap between the sons, the dynamic between Scott and Niko is slightly different. According to Orecchio, because Essmann is an upperclassman, he has not been only a friend but also a mentor. He said, "Being a senior, Scott helped me learn what it's like to play high school football and showed me what to do. He is a great teammate and a friend for life."
Even their teammates notice the relationship between them. According to senior Liam Murphy, the entire team is really close, but Scott "is always looking out for Niko."
Senior Jack Dippolito said, "They are really good friends. Even off the field, everyone knows their families are really close."
Both sons knew their fathers would be proud of them. Mr. Essmann said he "couldn't be happier to see all the hard work pay off."
For Mr. Orrechio, watching his son win the championship put him back on the field during his championship game. He said, "It allowed me to relive the excitement of winning a state championship. Much more importantly, I was happy that my son got to have the same experience."
However, as an underclassmen, Orrechio hopes "to keeping winning in the future." Going into the season next year, Orrechio hopes to make a bigger impact on varsity as a cornerback. Had it not been for injuries, experienced upperclassmen would have cut into his time on the field especially in the State Championship game. He said, "I would love to start on a team that won a championship game. I want to be a major contributor."
Orecchio and Essmann conquered and achieved the same lifelong goal as their fathers had. The boys will remember this event for the rest of their lives. Now, they can finally reflect on the event with their own fathers. As Essmann goes on to college, Orecchio will try to follow in his footsteps and win a second championship.