Just Keep Swimming, Iorizzo
Senior plans his transition from high school to college swimming
March 6, 2018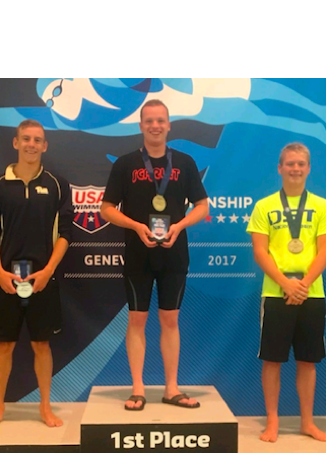 It's the 500-yard individual freestyle. That's a total of 20 laps back and forth without stopping. There are six people in the pool: three on the opposing team wearing red caps and three wearing blue caps with "OT" printed on both sides in gold. One of the swimmers is patiently waiting at the finished mark with his blue cap in his hand while everyone else is yet to finish. Coming in 4:52:78 (the average time for this event ranges from six all the way to nine minutes), senior Kyle Iorizzo has just won the longest race at the meet.
It was swimming that taught him about dedication, persistence, and relationships. It was swimming that shaped his life.
Iorizzo's swimming journey started when he was in first grade. "It was my parents' idea," he recalled. "They wanted to keep me active, but I didn't like any other sports like soccer or basketball, so swimming it was."
There was a point in his career when he wanted to quit completely. "When I was 13, I didn't love the sport, to be honest. If I had the choice, I would have quit," he said. But when he was 14, he noticed something. He was getting better, and so he kept going with it.
Since then, he has been constantly in the water. Iorizzo has been a member of multiple club teams in addition to being a member of the school swim team. He's been on the NY Sharks, Phoenix Aquatics, Condors, and now Scarlet Aquatics, one of the most prestigious and difficult club teams in the state that sends their athletes to the Olympics, the USA Swimming Nationals, and the World Championships.
Swimming is different than any other sport when you talk about the team bond. Spending hours with his team almost every day, Iorizzo said, "we go all around the country together. I'm going to California with my team in the summer," and they have been to Florida and Buffalo before as well.
But there are some downsides to being dedicated to such a competitive team. "I had to miss a lot of days of school," Iorizzo said. Scarlet teammate, junior JJ Wong, said, "we focus on distance training [where] practices can range from 6,000 all the way to 12,000 yards." Plus, their coach holds nine practices a week and there aren't even nine days in the week.
Regardless, Wong said, Iorizzo "is one of the most competitive and hardworking swimmers" on the team. The third year swimming together, Wong said "Kyle's probably the most motivated athlete on our team and his results definitely reflect his hard work and his mindset. When you swim with someone as fast as Kyle, it makes you want to try even harder and set even bigger goals." Iorizzo is widely known among the school's swimming team to "crush people" and "lap everyone."
According to Head Coach Amanda Bonan, being his coach for the past two years was "a great experience. Any event you put him into, he does well."
His accomplishments definitely reflect his commitment and all the time he has devoted to swimming. When he was 14, he went to the Junior Olympics and got 1st place in the 200-yard fly. Last summer, he went to the Futures Championships and came in the top three for all of his individual events. In school, he was 1st team all-county in the 500-yard freestyle and 1st place in the league meet for both the 500 and 200-yard freestyle.
In the end, the hard work has immensely paid off. Iorizzo will continue his swimming career in college as he is committed to a D1 school, Rider University. "They have a good team and it would fit me," Iorizzo said. He will be swimming the distance freestyle events (500, 1000, and 1650 yards; to be specific, the 1650 is a total of 66 laps back and forth without stopping) as well as the 200 fly. When teammate junior Celia Lane heard of the long distance events he would be competing in next year, she was "so surprised and thought it was a typo for a minute."
Coach Bonan shares some advice for him: "stay committed, keep your goals, and enjoy the experience."
Although he is unsure what he will pursue for his future career, Iorizzo will most definitely keep on swimming.