He Isn't Dunn Yet
Coach Dunn reaching his 400 win milestone
This winter sports season, the girls' basketball team won the Big North and State Group 3 titles, setting a school record with 28 wins in a season. The team's success was the result of one important person. He wasn't running on the court or shooting hoops; rather, he was standing on the sidelines, shouting out instructions and managing strategies. Girls' basketball head coach Brian Dunn was and continues to be a key factor in the team's successes.
In the fall, the football team went undefeated (12-0), winning the Big North and the North 1 Group 4 State titles also with the help of Dunn. Despite some very key injuries, the team finished 7th in the state and was the top-ranked public school in most polls. Senior outside linebacker Bryce Lukas said that Dunn is "hands down… the best coach in high school football."
Dunn's pattern of success and ability has not been the luck of the draw. As a student at Northern Valley Demarest, Dunn played football, basketball, and baseball. In college, he played on the football and rugby teams. This passion for sports has poured into Dunn's many years of coaching. He has coached football at NVOT for 23 years, (18 years as head coach), and basketball for 21 years as head coach.
Recently, Dunn accomplished the feat of winning 400 basketball games as head coach. Dunn credits this success to the opportunity of having spent "a lot of years surrounded by the right players and assistant coaches" who "worked hard together in order to be at [their] best." Ultimately, Dunn feels "privileged and honored to have coached so many great young women" and to have coached alongside many other "exceptional coaches."
Having spent hundreds of hours training and competing together, the team has made many memories. Junior guard Jaclyn Kelly vividly remembers having a great time even though Dunn was shouting. Nonetheless, the team agreed that the most memorable moment was winning the State Group 3 championship and celebrating Coach Dunn's 400th win. Especially for Katie Dunn, "winning [the title] my senior year with my dad as my coach was such a special moment for us."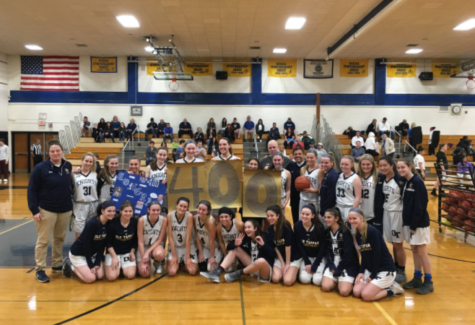 In addition to the team's great bond, Dunn's most notorious coaching technique, yelling, has aided them to succeed. All of the girls on his basketball team admit it, and credit it to be helpful. "He yells at us until his veins pop out of his neck, but he yells because he cares," said junior guard Noelle Gonzalez.
Even his own daughter admits that he's a tough coach as he "yells and is always hard on us, but that's what helped us make it so far this season," said senior guard Katie Dunn. She also admits that she grew tremendously because of his help. She said, "I've changed so much since I first started playing basketball in high school. He's taught me so much on and off the court that I'm so thankful for."
Ultimately, his strict coaching style, according to senior guard Erin Harnisch, shows that "he truly cares about how [the team] perform[s]," which is why they practice with "purpose every day."
This past winter season was full of milestones: the girls' basketball team made it to the championships and attained a 400 win milestone, displaying the program and the season's success. With 400 wins added onto his belt of accomplishments, Dunn only seeks to "go back to work and continue building and improving for [the] next season." He added, "Winning championships always makes a coach proud, but I am most proud when I see members of my team treat [others] well, put others ahead of themselves, and carry themselves with confidence, but humility in their day to day life."