Stepping Into The Light
Maria Chung takes first at songwriting contest
June 4, 2018
"Mic check. One, two, one, two," junior Maria Chung said as she ensured everything was ready before her first performance at a music competition. Her palms began to sweat and her heart raced at the anticipation of her debut performance. When the announcer called "MARIA CHUNG!" she raced onto the stage and sung the opening lines of her song: "walking through the street, light up a cigarette…" Immediately, the crowd burst into applause, baffled by the magnitude of her every word. Comforted by the applause and cheers of the audience, her nerves settled. Three short minutes later, she humbly walked off the stage, having just left her mark on her first music competition: the 2018 Shout Down Drugs concert.
Shout Down Drugs, an annual music competition, challenges high school students to create original music about preventing substance abuse. Students from around the state submit songs to the Shout Down Drugs website where the public then votes on them. Chung said, "the songs with the most votes and judges' approval eventually proceed to the final round," to be performed on stage during the annual NJ Shout Down Drugs Concert held in Mendham, New Jersey. The singers with the best performance and message are then awarded by the judges. Chung, who placed first, was awarded a $5000 music contract, giving her the opportunity to tour New Jersey and perform her song.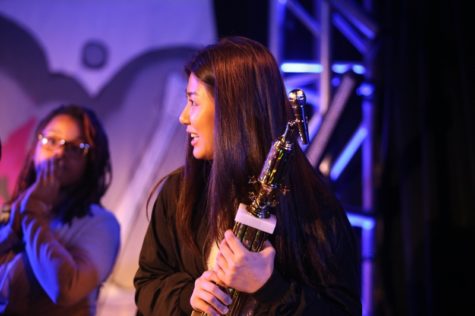 Courtesy of Shout Down Drugs NJ
For most musicians, music is something more than just plucking a guitar string or hitting a key on the piano. Music has a special significance in their lives because it helps them express themselves as artists or allows them to convey their feelings and emotions. For Maria, writing music is like having "a collection of [her] memories that [she] can keep."
She has, in fact, been collecting those memories for her whole life. Her cousin, senior Teresa Hong, said that whenever someone visited their house "they would definitely know Maria was passionate about music because it is all that they could hear." Hong added that Chung's songs are "so sweet and meaningful because she works so hard to compose each [one], incorporating deep thought into each lyric."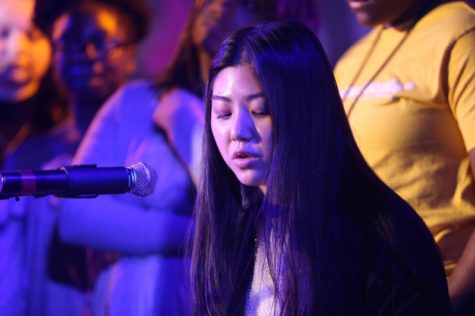 Courtesy of Shout Down Drugs NJ
For this particular competition, the lyrics needed to convey a message that would prompt drug prevention. Chung did just that through her song which cleverly employed a personal story that would teach others the harmful effects of drugs. Her song, "You Could Have Done Better," was inspired by one of her family members whose husband was a heavy smoker and an alcoholic. The lyrics tell a story of how he was always carelessly smoking and drinking while his loving wife was constantly worried for him. After years of wasted time and opportunity, his wife regrettably passed away. This song was Chung's opportunity to convey a message "telling him that he should have done better before his wife's death," she said.
Chung's persistence and careful attention to detail was not the only factor which resulted in her beautifully composed song and success at the competition. Beginning at the age of five, Chung grew to love music as she learned to play the piano, the guitar, and the flute. However, her interest in singing and composing songs developed in the fourth grade when she wanted to be on the main stage instead of being behind the piano. Chung was a part of a school talent show where a group of girls asked her to be the piano accompanist while they performed. "They were having so much fun. So I thought I might as well just start singing and make my own songs," Chung stated.
Despite her love of and dedication to music and performing, Chung considers music to be a hobby. She has however demonstrated her devotion to the activity both inside and outside of school. As a member of the NVOT choir, she was among the few chosen to be a part of the Tri-M Music Honors Society, a talented group of performers who are considered to be some of the best in the school. In addition, Chung has had several opportunities to perform solo on different stages such as at the school concert where she sang "Feeling Good", and at the Jazz Cafe, in which she performed "Fly Me To The Moon". Chung also has an ongoing Youtube channel where she posts her original songs. Over the past few months, this channel has begun to grow and attract attention.
Even with all of this experience, Chung had never won a competition or award with the magnitude of the Shout Down Drugs Competition. The experience still remains surreal to her. Nonetheless, Chung's goal as a musician remains the same: "to share experiences and messages with the audience." Fortunately, this experience has provided her exactly that opportunity.