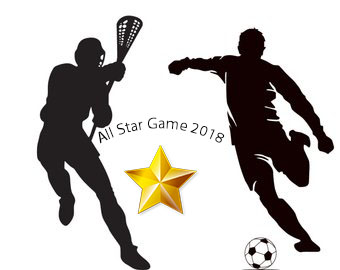 The Bergen County Senior All-Star games will be played on Wednesday, November 21 at Fort Lee Middle School and Sunday, December 2 at Montclair State University. This year, two soccer players and one field hockey player from NVOT were invited to participate, wrapping up their high-school sports experiences before they head off to college.
Seniors Danny Yun and Anthony Contreras will compete with and against other selected students in the soccer match. "I am expecting to get to play with other people who had an impact this season for their team," Contreras explained, "I hope to have the opportunity to play against great players."
Contreras also said this is important as he hopes to have "the chance to meet many college coaches there."
Yun agreed, saying that the highest expectation that he has for this event is "the exposure from the college coaches" because he is "in a hurry to find a college to play [for] on the next level."
Senior Allison Hargrove will play in the field hockey match. Hargrove is curious to see how the team will do since "the majority of the players are from Ramsey and Northern Highlands, which are two powerhouse offensive teams." She mentioned that this will be different than what she's used to because she "only knows these girls on the basis of trying to win against them, but now we will all be trying together." As for the game itself, she believes that with the addition of the "defensive skills coming from River Dell, Old Tappan, and Westwood, this should be a very good game."
None of the players have much connection to the others who will soon be playing alongside them. Hargrove said that because there are no club field hockey teams in the area, she feels she missed the chance to have a strong connection with her future teammates. "If there was a club team, I would already know them very well," said Hargrove.
Contreras added how he only "knows two other friends that will be attending," but his case, there are multiple club opportunities playing nearby. Neither participant, however, knows fully what to expect from their teammates.
Hargrove, Contreras, and Yun's teammates are not at all surprised at these all-star selections. "I think Allison is a really good teammate and leader," teammate and sophomore Jenna Fitzgerald said, "she has been the captain of the team for the past two years, and I'm definitely going to congratulate her for this amazing opportunity."
The support doesn't stop with the field hockey team. Junior Sebastian Silveti, who played alongside Yun and Contreras for the past few years, said that "Danny and Anthony were two of our captains, and throughout the season they helped the team get better." He added how during practices, "they wouldn't exploit your weaknesses, they would help you fix them. They helped connect the team together, and they were good leaders."
All three players are ready for whatever comes out of their upcoming matches. "I am excited to play with and against the greatest players in New Jersey," Yun stated, "but the most important part of these two events is to enjoy my last game of high school soccer."