Golden Knights Signing Day
Five seniors recruited and committed to College
November 24, 2018
On Wednesday, November 14, five seniors signed contracts to play the sports that they love at the collegiate level. Seniors Kelly Chen, Nicholas Sabella, Jason Wong, Megan Weis, and Melanie Sparhawk have all committed to play in the NCAA Division I or II.
According to athletic director Thomas Kaechele, NVOT "exceeds the national average of high school students" signed to play in the NCAA.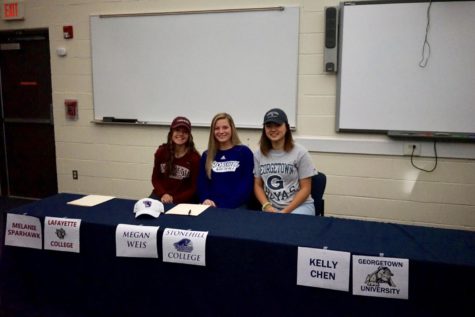 Kelly Chen (Volleyball)
Head Coach Melissa Landeck said she is an "outstanding leader and teammate who makes those around her feel better."
Committed to Georgetown University

Named first all-conference county state multiple times

6 rotation starter all seasons for all four years of her high school career

Played a big role in the team's perfect 26-0 record during her freshman year

Over her career, she's accumulated 92 wins and 9 losses
Megan Weis (Softball)
Landeck, head coach of the softball team, said she was "very happy to go one more season with Megan in the spring."
Committed to Stonehill College

Starting shortstop and won state championship her sophomore year

Is a versatile player, as she plays multiple positions
Melanie Sparhawk (Tennis)
Head Coach Oksana Manoukian stated that "Melanie always fought for every point no matter her opponent."
Committed to Lafayette College

Co-Captain of the girls tennis team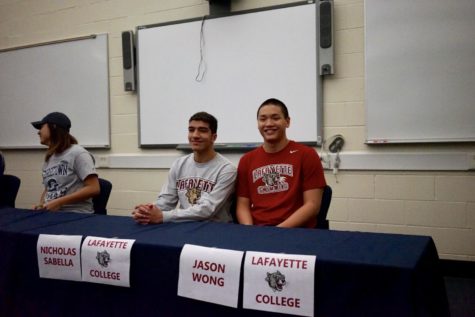 Nick Sabella (Swimming)
"Nick's a swimmer who you can ask to swim anything," Head Coach of the girls' and boys' swim team Amanda Bonan said. "He comes from club swim team practice to our swim meets and blows his competition out of the water."
Committed to Lafayette College

Swims the 200 and 500 freestyle events

Dedicated to both the school team and his club swim team, the NYS Aquatics
Jason Wong (Swimming)
"It's no surprise that JayJay will be signing today. I'm so proud of him, and I wish him the best of luck," Bonan commented. She later added, "I miss having him on the team, so hopefully, I can convince him to come out and swim with us for his last year at NVOT."
Committed to Lafayette College

Swims the 50 freestyle, 100 freestyle, and 100 backstroke events

Swam for the school team his freshman and sophomore year and continues to swim for his club team, the Scarlet Aquatics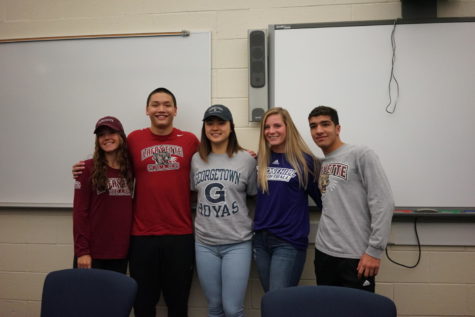 Avoiding the long wait to hear back from colleges, Weis said, "I feel very relieved that I don't have applications and decisions to wait for." She added, "I'm looking forward to going to school with my older brother again, and I'm looking forward to hopefully getting to the state championship in the spring."
According to Chen, making such an important commitment makes her feel "happy, but at the same time, everything feels very surreal. I look forward to a brand new start, almost like spreading my wings."
As for the three student-athletes heading to Lafayette College next fall, Wong expressed that he is "looking forward to continue going to school with Nick and Melanie."
"I'm looking forward to being at a school that I love and getting to meet new people and study in an area that I love," stated Sparhawk.
Sabella added, "I'm going to miss high school and home and my family, but college will be a new and exciting experience."
Though only a handful of students have committed to continue playing at a very prestigious level so far, many more seniors will hear back from their respective colleges and universities later on in the year.