Advocating for Awareness
Junior Aaron DeNicola fights Alzheimer's
February 27, 2019
When he was little, Junior Aaron DeNicola and his grandmother were inseparable. His earliest memories with her were of them laughing and playing with a massive Thomas the Tank Engine set or simply being together. By the time he reached second grade, though, he noticed his grandmother change. She didn't laugh the way she used to, wasn't able to speak coherently, and wasn't herself.
"My grandmother would repeat the same questions over and over again and she didn't seem to remember a lot of words. She would lose things around the house, and she was always worried and anxious," DeNicola explained.
"The words Dementia and Alzheimer's weren't words I had heard before," he said. As years went by and her condition progressed, DeNicola began to research the disease on his own to find out what it meant and how it affected his grandmother, despite only being in sixth grade. Among his findings were "terrifying" statistics surrounding the disease. After that, DeNicola explained, "I wanted to get involved. There was nothing I could do to help my grandmother other than stand with her in the fight against this disease."
Motivated by his grandmother and her experiences, DeNicola got involved in the Alzheimer's (ALZ) Association beginning in 2015. He explained how he holds multiple positions in the organization, including "ALZ congressional team member for New Jersey's fifth district represented by Congressman Josh Gottheimer, one of the logistics chairs for the Walk To End ALZ Planning Committee for the Bergen-Passaic area, and the Walk to End ALZ AIM-Advocacy Chair (Alzheimer's Impact Movement)." This requires him to miss school a few times a year to attend forums or speak at nationwide staff leadership summits.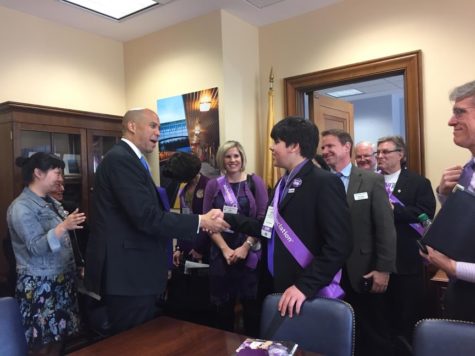 As a congressional team member, DeNicola's responsibilities include "planning events in which the congressman will attend, engaging the congressman's staff through meetings, social media, and conference calls, as well as reading and annotating various bills that are in the House of Representatives and/or Senate." For his Logistics and Advocacy Chair roles, he is responsible for "volunteer recruitment, management, and training, coordination of the layout and set up for the Walk to End ALZ, and management of in-kind donations for the walk." He also coordinates with the ALZ sister organization, AIM.
Here at NVOT, DeNicola said that he advocates for ALZ by "raising awareness through events." More recently, DeNicola has assisted in hosting events like the Team Up Against Alzheimer's Pajama Day and Purple Out Basketball Tournament with the student council and the boys varsity basketball team. He worked closely with the boys varsity basketball head coach, Craig Ferraro, in planning the event since his freshman year.
"As a freshman," Ferraro explained, "Aaron came into my health class and asked if he could do a project." At the time, DeNicola was also getting ready to do a big presentation for an ALZ Association event. "We got the idea to do the basketball tournament, to raise money, and we worked together for the last couple of years to plan it for this year," Ferraro said. The tournament ended up "raising $2000 with a large turnout in people. Aaron and members of the Association set up a table and raised awareness by handing out information packets." Ferraro added, "Aaron made a speech during the halftime of each game, and it definitely did the job."
Impressed by DeNicola's overall work ethic, Ferraro said, "I would work with Aaron on anything. He is super hardworking, will do anything to get the job done, and is very determined." He added, "All of these things are going to set him up to be very successful moving forward."
Along with fighting for his grandmother and the millions of people living with Alzheimer's, DeNicola also said, "I walk to fight for my grandfather, who has sacrificed everything to take on the role of being her full-time caregiver, as well as the more than 16 million other family caregivers in the United States alone." As far as how he wants to remain involved in the future, DeNicola explained, "I want to go into public health to work on policy, health care education, and promotion to help those facing the disease in the future." He added, "I could see myself working for the government or for the Association in public health." Until then, DeNicola will continue to raise awareness for Alzheimer's through his roles in the organization and at NVOT.