Great job, Here's a Pat on the Back
Junior Pat Passalacqua recruited to Columbia
May 17, 2019
Towering at a height of 6 foot 2 inches and carrying a jug of water to calculus, he sat, ready to tackle a challenging packet of AP questions. After school, he ran out onto the football field, ready to tackle the opposing team.
Junior Pat Passalacqua, who plays offensive and defensive line on our football team and throws shot put and discus in track, has recently received an offer to play football at Columbia University. Though he is not yet committed, his dedication and hard work not just on the field but also in the classroom has paid off.
Balancing sports every season has been "difficult at times," Passalacqua said as he plays football in the fall and does both winter and spring track. But he realized the key is "having a routine and just worrying about day-to-day operations while keeping long-term goals in mind."
Passalacqua visited Columbia a week or so before his recruitment offer and "got a great feel of what the football team was like and talked to the coaches." Soon after, he received a call that they would give him an offer.
This college opportunity came slightly unexpectedly as he has gone through similar experiences with other coaches, which haven't "ended with them giving me an offer," he recalled. But he was "extremely excited as it definitely was a goal of mine to have the opportunity to play Division I football, especially in the Ivy League."
But the entire experience has been a rollercoaster of emotions and Passalacqua admits that it's "inexplicable. I get told to 'enjoy the process' so often it drives me crazy… and the whole thing is a little wild." Different schools and different coaches look for a variety of things in students that it's quite difficult to understand and do exactly what they want. But the best advice he received was that "the whole thing isn't a science and that just because the coaches recruiting are supposed to be 'at the next level' is that their evaluation can still be riddled with human error. So the only thing you can do is keep being confident and work hard."
As for now, he has been recruited to play football, but he is still waiting for other offers and is interested in playing track as well in college and believes the track recruitment may begin to take form after this season.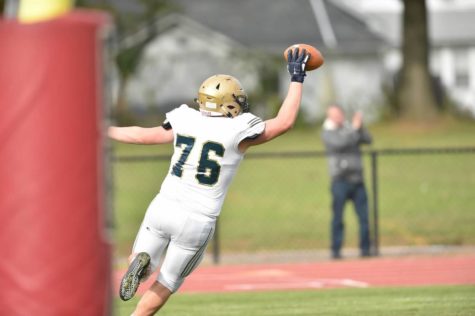 Coach Joseph Clause has been working closely with Passalacqua, training him and helping him to improve his techniques. "[He's a] competitor. Pat wants to be the best at whatever he is doing.. and is always willing to put in the necessary work to achieve his goals," Clause said. Not surprised at the recruitment offer, Clause acknowledged that "day to day effort to get just a little better over the past 3 years he has had tremendous growth by concentrating on the here and now."
"I am so excited to see a hardworking guy like Pat get recognition," teammate and friend senior Chris Bazela said. "We are both very competitive people so we are always trying to outdo each other even down to stretching, but we enjoy seeing each other succeed, which pushes us farther."
However, in addition to training hard out in the field, Passalacqua is taking challenging classes in addition to juggling his sports. It's "definitely stressful, but incredibly rewarding," he recalled. "I've been lucky to have amazing teachers and coaches that get the best out of me in both fields." But this immense amount of responsibility comes with many sacrifices and a lot of time management. Passalacqua said, "I definitely think I am balanced pretty evenly as a student and athlete and I compete on the field and in the classroom as such."
"He is the true example of a student-athlete with his dedication both on and off the field. Whatever school he chooses, they are getting a top-notch athlete and student," Bazela affirmed. "I know that our [track and football team] are in good hands next year. His blue-collar mindset and willingness to work hard makes him one of the most coveted athletes in the state."
As for what he would like to pursue in the future, Passalacqua is interested in engineering. As a math, physics, and problem-solving enthusiast, he is "not exactly sure what field specifically within the umbrella of engineering" he will pursue, but he is sure that he will figure it out while continuing to balance football and maybe even track as well. However, up until this point, he is proud of his accomplishments and will work even harder during the last few months of his junior year and all the way until the end of his senior year.