It's a Bird, It's a Train, It's a Zelcer
Train and Zelcer's relaxing day turns into an adventure
November 4, 2019
It was 30 minutes before Back to School Night, and instead of preparing for a presentation, English teachers Jeffrey Train and Brook Zelcer were cruising down the street with a hawk.
After school on September 26, Train and Zelcer had time to kill before Back to School Night. They decided to "have a nice relaxing day at the Greenbrook Sanctuary in Closter," according to Train.
Once they got there, they made their way to a pond where they saw a hawk fly by, and Train, an avid birder, knew something was wrong.
After landing in a tree, "the hawk fell upside down, righted itself by flying, and then landed on the ground," said Train. "It was apparent something was wrong with its leg." 
Train said he wanted to help the bird. He said, "earlier in the week I read an article about how in the last 30 years, 3 billion birds in North America have been eradicated. I felt obligated to try and help this bird." 
Zelcer, on the other hand, was more hesitant. Zelcer said, "I thought it would be extremely difficult, and very dangerous, to catch the hawk." With Back to School Night only a couple hours away, Zelcer reluctantly agreed to try and save the bird. "I told [Train] he was crazy, but I would help him anyway." 
They both headed back to Train's car, to find anything that could help. Train made a makeshift hawk glove out of an extra pair of pants, and a seat cover. Zelcer was worried about the stability of the glove. Zelcer said, "If this bird had not been so weakened, and close to death, Train's movie star good looks may have ended right there."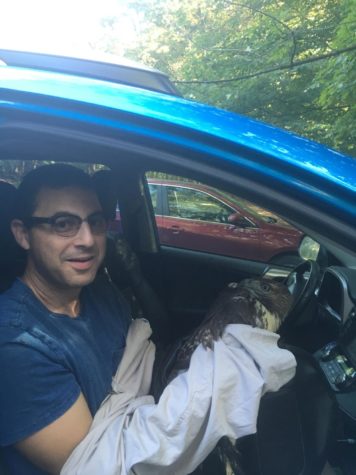 They headed back to get the bird. The bird initially started to fly away, but then landed in a marsh. Train made eye contact with the bird and started to talk with it. Zelcer joked, "I admired Train for his bravery, but I thought he had gone a little too far when he started whispering to the bird about the importance of a growth mindset." 
Train said, "the hawk appeared to understand that I was trustworthy and that I was trying to help." Train then knelt down, grabbed the hawk around the wings and picked it up. 
After catching the hawk, who was later named Dawn by Train's son, they now had to decide how to help. Train and Zelcer discussed options of what to do with Dawn. Train said, "the first thing we thought to do was leave it in a covered garbage can overnight, and then come back the next day. We feared a raccoon or coyote might come and eat Dawn, though, so we had to think of something else."
They decided to go to a pet store that they knew sold birds and thought they might be able to find a cage. Train said, "it was such a funny experience, driving down the Palisades, and seeing people look into the car, and see two guys, and a hawk."
While Train was enjoying the ride, Zelcer was still worried. Zelcer said, "the hawk was incredibly calm, but I was afraid it still may break itself free, and cause us to have a terrible accident."
They arrived at the pet store to buy a cage. Train said, "the plan was to take Dawn to The Raptor Trust the next day, but when we went to buy the cage, one of the employees told us about an animal hospital in Rockland County that took care of birds."
It was now 30 minutes until Back to School night. Train said, "we typed in the address into the GPS, and it said 15 minutes to get to the animal hospital, and then 15 minutes to get to the school."
Train and Zelcer then took the bird to the animal hospital, where doctors began caring for Dawn and then rushed back to the school. Once they got to the school Train said,  "we snuck into a side entrance so the parents did not see us. Then, Mr. [Paul] Capuzzo let me into the coaches' room so I could quickly shower, and clean off all the mud."
After the adventure, Train and Zelcer still had to go through Back to School Night. Zelcer said, "We got back just in time. Back to School Night is always a formal, stiff affair. Saving Dawn kept things in perspective, and after that, anything seemed easy."
Dawn received care from the animal hospital. There, Dawn was diagnosed with West Nile virus and died after a few days. Train said, "the virus had spread too much, and there was nothing the doctors could do." Though Train is upset about Dawn's passing, he said, "I take solace in the fact that I tried, and that Dawn had a peaceful death."