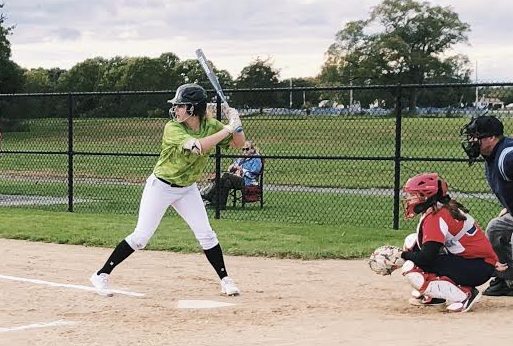 Allison Brown
It was July 4, 2019, at the annual TNT Softball Showcase. Since her normal club team, The Vipers, was not in attendance, senior Kristen Brown was guest playing for the Hurricanes. The coach representing Lafayette College was five feet away, behind the backstop, with her eyes glued on Brown. 
Brown went up to bat and grounded out. "I felt angry with myself," Brown recalled, "But I couldn't let my attitude get the best of me."
The next time Brown went up to bat, she saw that the Lafayette Coach was still watching. She swung and hit an opo (opposite field) homerun. "It was harder to hit than pulling a ball, because you have to use your top hand with more force," Brown explained. As she rounded the bases and saw tears in her parents eyes, Brown said, "I knew I had just set my future up. It was the happiest moment in my life."
While most high school students start the college process around junior or senior year, Brown has been in contact with Lafayette since her sophomore year, with the entire recruitment process taking two years. "I started emailing her once a week or once every two weeks saying, 'good game this weekend!' or 'I love your school and I'm so excited!'," Brown said. "I would call her on the phone and we would have hour-long discussions about life and softball. After a little while, she watched my skills video, and came out to watch me [play]. Two days later she offered me."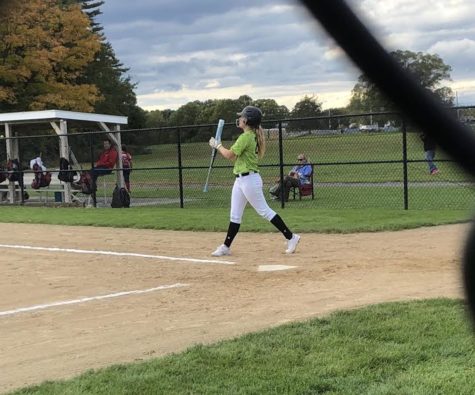 Her passion for the sport started with tee-ball in kindergarten, which led her to play softball in first grade. "I realized how much fun it was, and how much I loved the team and everything about the sport," Brown explained. Her parents immediately supported her decision "because they wanted me to do what I really loved and be great at it."
Softball is a staple in Brown's family as her sister, Allison Brown, also attended Lafayette for the sport. Her sister graduated high school in 2012 and played at Lafayette until 2016. At one point, she said this made her not want to play at all to avoid "being in her sister's shadow," but around the "sixth grade was when I realized that it was really something that I am passionate about and really wanted to do." By age ten, her parents had signed her up for club softball and Brown soon spent her weekends traveling for hours just to get to the games.
Now, Brown eats, sleeps, and breathes softball. Her daily schedule includes a morning workout, an after-school workout, and a team and/or personal practice afterward. She usually starts her homework around nine or ten at night and gets to sleep by midnight or 1:00 am. 
"As an athlete, she's very determined," said softball head coach Melissa Landeck. She added, "She works hard, doesn't take any reps off in practice, and is max effort all the time." Outside of the three month season, Brown practices year-round.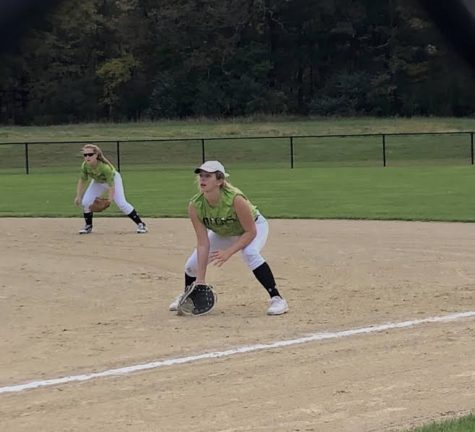 She normally plays at first base or in the outfield. "I've always played this position, but I also used to pitch a lot. I don't pitch anymore, though, because I wanted to go D1." The change in position did not make much of a difference to Brown, since her focus "is always on the game, no matter the position." 
Brown's overall drive is what fuels her during each game. Her own excitement—mixed with that of her teammates and coaches—energizes her every time she is up at bat. Brown described the feeling, saying, "I love the feeling of a perfect hit. It's as if a firework is going off in my hands—it's so smooth but so powerful. It's like punching a wall, but feeling no pain."
Considering everything that she puts into each game, it's no surprise how she reacts after a mistake or a loss. "If I strike out, I want to hit myself in the face. If I ever make a mistake, I get so insanely mad because I know I can do better. I train every day, so I ask myself why I would make that mistake now," said Brown. Her parents used to be harder on her after a loss, but she added that "now it's more me being hard on myself. They know I'm crazy hard on myself."
Her close friend, senior Cynthia Gordon, agreed saying, "There's probably no one who will be harder on Kristen than Kristen." The two have played together on the school team since freshman year, and they have been best friends since. As both a player and a person, Gordon described Brown as "very competitive" and that "it definitely shows in and out of softball." She added, "[Brown is] so hardworking and determined, and that's only going to help at college. Also, she loves the sport so much and is constantly working to get better, so I think she'll 100% thrive at the D1 level."
As far as the future goes, Brown plans to play softball for the next four years at Lafayette. She is considering playing professional softball outside the country, but she doesn't know if that's really what she wants to do. "I might want to start working instead and go into business related to sports. I love [softball] so much, I couldn't imagine my life without it. " She plans to keep the sport in her life one way or another.