Scoring Her Goal
Senior Sami Derrico is taking her soccer skills to UCONN next year
January 28, 2020
It was the second round of the state tournament, and the entire girls varsity soccer team was petrified as they boarded the bus to play national powerhouse, Northern Highlands. Current senior Samantha Derrico, just a five-foot-one freshman at the time, remembers the moment: "The seniors were especially terrified. They were these big, strong girls, but I just remember seeing the fear in their eyes." Derrico, having never played Highlands before, headed into the game scared but excited. 
When she stepped onto the field, no one could predict the impact she was about to make. Minutes later, Derrico dribbled down the field with her teammates following close by. This freshman was determined, with her eyes remaining on the prize, just like everything else in her life. 
The goal was in sight and as Derrico wound up, the ball went soaring in the air and landed in the back of the net. She did not even get to watch it go in. Her teammates were already tackling her, screaming, "The freshman scored! The freshman scored!" 
Derrico has been an athlete since the day she was born. She often credits this to her parents who "led by example, so all of my sisters and I easily got into sports." This especially applies to her younger sister, junior Emily Derrico, who has been playing soccer and lacrosse with Sami ever since they were little—helping to contribute to that "Derrico magic."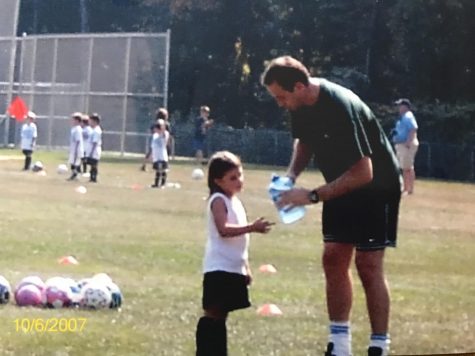 Derrico has played both soccer and lacrosse for the Golden Knights for four years and is expected to earn four-year varsity letters in both sports, making a substantial impact on the programs. She especially excelled in soccer, as she made first-team all-county and third-team all-league in her senior season. Mrs. Kathleen Wehmann, head coach of the girls soccer team, said, "she's incredible. Resilient. She worked hard, if not harder than most of her teammates." 
Derrico, the only captain, led the team in goals this past season. She adapted to the role of captain "seamlessly," according to Wehmann. Derrico truly embodied the spirit of a captain as "she always put her teammate's needs before her own." 
Wehman said, "I remember the day before senior night, Sami came to my office and offered her starting position to any other senior who she thought should get a start, and that's pretty big."
Even her fellow teammates could not deny the influence she had on the team. Senior Elliana Olivo said, "She set standards as our captain, boosting our morale and hyping up the team. I know she truly cared. Of course, she wanted the team to do well, but she also cared about all of us individually and that meant a lot."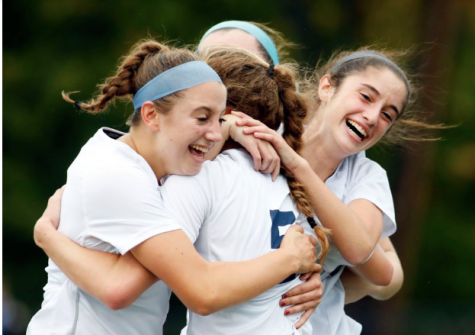 Ever since Derrico was a little girl, she dreamed of playing at the Division I level, a goal that drove her to dedicate her time and energy into "training and preparing for that level of play." Ultimately, Derrico concluded that "if I could play lacrosse at the next level, I would love to, but soccer is something that I would never be able to give up." It was this vigorous passion for soccer that led Derrico to identification camps (ID camps) that would allow her to get the collegiate exposure she needed. 
However, like many other athletes, Derrico faced setbacks, despite her dreams seeming within reach. Upon entering her sophomore year of high school, she broke her ankle. Of course, injuries are always physically, emotionally, and mentally tough for athletes, but according to Derrico, "sophomore year is a key year in the recruitment process for soccer," so missing five months due to injury was heartbreaking. 
But challenges don't always mean just injuries. Derrico is also a student-athlete and focuses on prioritizing her academics as well as her athletics. She commented on her "rigorous soccer schedule," explaining that "time management is key." Derrico grew up spending "lots of time doing [her] homework in the car on the way to practice." 
Regardless of her demanding schedule and painful injuries, Derrico made the most out of the situation. "I've learned valuable life lessons through it all—it's taught me to be self-disciplined." With this "never give up" mentality, Derrico kept her eyes on the prize: division one soccer.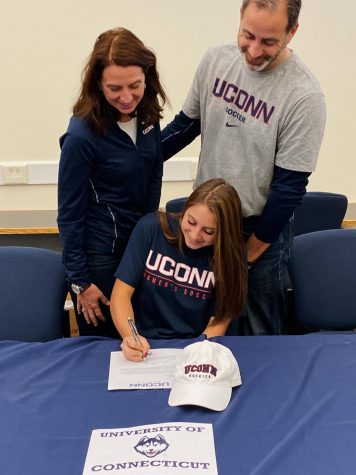 This is when Derrico's recruitment process started. She initially thought that it would be a good idea to attend an ID camp at a college that wasn't at the top of her list. She said this would allow her to get a better understanding of the process before she started going to more camps. But, as many high school students know, picking a college can often take an unpredictable turn. Less than a year after attending The University of Connecticut's ID camp, Derrico made a verbal commitment to be a Husky. She said that as soon as she stepped on campus, she "fell in love."  
Because of her love for both soccer and her dream school, Derrico can begin to take her next step in her journey, giving back her NVOT jersey for the last time and trading it in for a Husky uniform.