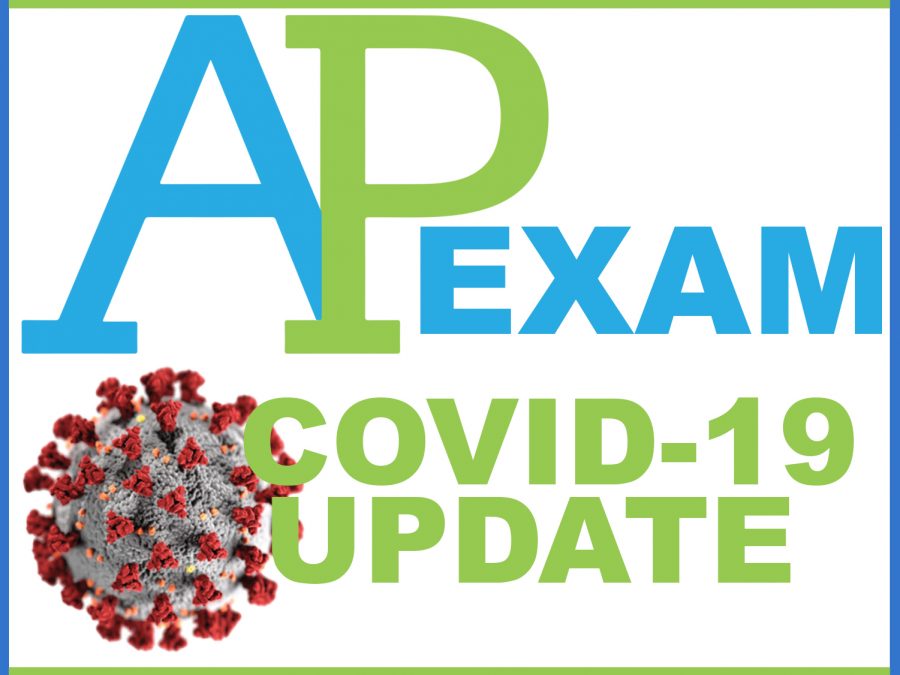 Despite the coronavirus pandemic causing schools all around the country to go online, including NVOT, students are still working hard for the Advanced Placement (AP) exam season this year. But many are questioning the feasibility and fate of these tests. To keep up with the COVID-19 pandemic, the College Board has announced that this year's AP exams will be fully administered online, for the first time ever.
This is a monumental moment for the exam's history since the format of it is being completely changed due to social distancing recommendations from state governments. This new style of AP exams will be shortened, partially rewritten, and accommodated to meet every student's needs. They announced this update on March 20, 2020, and a new official update on the exams on April 3, 2020, and have been updating them since.  
This came as a huge surprise to many AP students because the College Board is notorious for its strict testing rules to prevent cheating. Unsurprisingly, the issue of cheating has been brought up with the talk of online, at-home exams, but the College Board assures that they have "a range of digital security tools and techniques, including plagiarism detection software, to protect the integrity of the exams."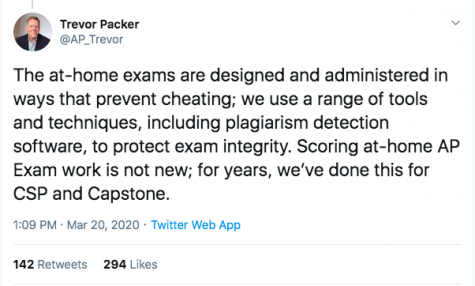 This is not the only new change to the exams this year, too. The tests will be shortened to 45 minutes, from the original time of three or more hours per exam. In addition, all tests will be converted to a free-response format. Students will have these 45 minutes to answer their question(s), and an additional five minutes to upload their work. Trevor Packer, the head of the College Board Advanced Placement Program, revealed on Twitter that the exams this year will also be open book, similar to many college exams. According to Director of Guidance Matthew Spatz, because of this open-note style, "This is a test that applies the skills rather than loads the content."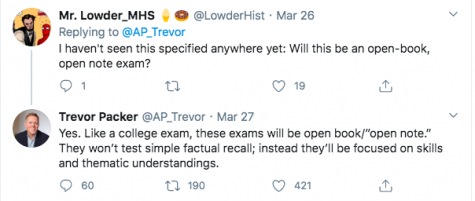 Not every skill and topic will be covered this year either, just the topics that most schools typically cover by early March, and some courses are taking out some portfolio submission requirements. 
NVOT has 405 students enrolled in AP classes, which means approximately 35% of all students are affected. Sophomore Lily Corso, an AP U.S. History and AP Seminar student, said, "I'm really upset because I worked really hard on a presentation (for AP Sem) that now doesn't even count. But I know the College Board is doing what's best for everyone right now."
AP educators have also been impacted as the school offers 32 AP courses at the moment. Many teachers are frustrated that over a year's worth of work is crammed into one exam. Dr. Nicholas Pellegrino, AP US History teacher, said that the shortened exam  "makes it difficult for the exam to accurately assess what my students have learned this year."  While Pellegrino is not a fan of the new exam format, he does understand how difficult the planning has been on the test creators. 
The College Board is also trying to make it easier for students to take the exams so there will be the option of either handwriting and sending a picture of the exam in, or typing it online. To ensure that every student has the opportunity to be prepared for the new exams, they began live stream lessons for free on March 25.
Superintendent James Santana told students in an email dated April 20 that they have also been given the chance to opt-out of taking the tests entirely. This includes required exams and does not come at an additional cost to students and their families. Students will only be charged for the exams they take and refunds for dropped exams will be processed by the College Board in the summer. If a student does decide to drop an exam, this decision will come "with no consequence to course credit, course name or course weight." 
Regarding the dramatic updates of the exams, Spatz said, "It is good that AP worked on a way for students to still test – and [still] earn college credit. I think with everything else, to have lost those opportunities would have been upsetting." And regardless of the changes, Spatz said, "I am very confident our students are prepared." 
AP exams will begin May 11 and end May 22, with the makeup days from June 1 to June 5. Further information regarding the specific units of the test can be found on AP Central.
5/13/2020 UPDATE:
The College Board has urged students who want to still take the exam to watch this video on the walk-through of the exam and to test out the demo of the exam. They also advise students to print out the AP Exam Day Checklist to assure that the exam goes as smoothly as possible.