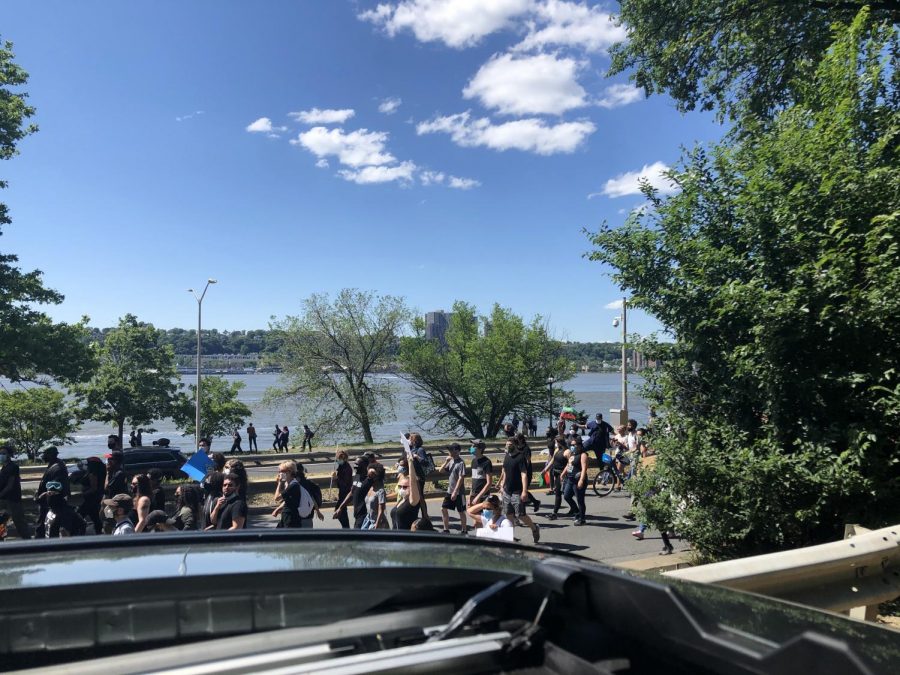 Witnessing Activism
Social media brings the Black Lives Matter movement into focus.
June 3, 2020
If I were to open Instagram, Snapchat, Twitter, or Facebook right now, I can guarantee it would take me less than five seconds to see a post about the Black Lives Matter (BLM) movement and police brutality. My own Instagram story would probably have two or three posts about how to demand justice for George Floyd or the detrimental effects of neutrality. Now, in 2020, I am seeing the largest and most diverse group of people fighting for African American lives—more than ever before. Protests have emerged in major cities across the US, and while there are many who do not support those that turn to violence, we can all agree that the nation is uncomfortable. 
Social media is fueling this spark in activism, as more and more footage of everyday racism is released, and other races are finally beginning to understand what Will Smith meant in 2016 when he said, "Racism is not getting worse, it's getting filmed." Technology allows us to use film and photography to show the world the truth. We see injustice and photograph it with the sole purpose of making whoever sees it feel uncomfortable enough to react. This is one of the greatest differences between the BLM and the Civil Rights Movements–the moment something happens, we now have the power to take a photo that can trigger emotions from thousands of people in mere seconds.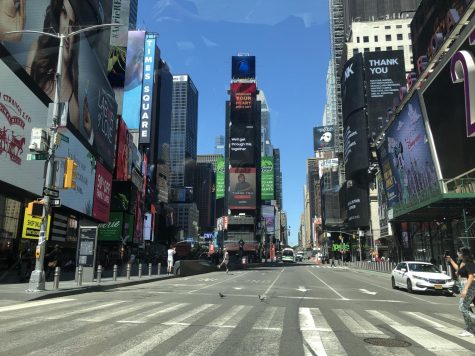 This newfound ease with which one can make a change is why I, an African American student, made the decision to get involved. After visiting my grandmother in Queens on May 30, I asked my dad if we could drive through Times Square on the way home. I said I wanted to see for myself what quarantine-ghost-town-Times-Square looked like, but truthfully I wanted to find a protest and capture its power in a photograph. This was hours before demonstrators took to the streets of Manhattan. According to the New York Times, later that day "crowds of protesters holding signs and chanting slogans made their way through Harlem, the East Village, Times Square, Columbus Circle, Jackson Heights in Queens, the Flatbush section of Brooklyn and portions of the Bronx and Staten Island." Many of the protests turned violent and there were over 300 arrests.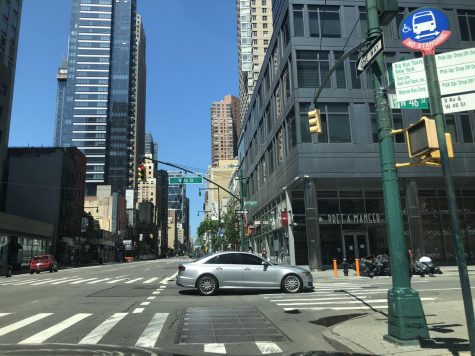 We didn't notice anything going on until we were heading north up the West Side Highway, approaching the 125th St exit. For one, it was the first time we hit bumper-to-bumper traffic. There were only bikes on the southbound West Side Highway, which confused us as it was the middle of a Saturday afternoon.
All of a sudden, there was a man on a bike in the middle of the highway. He was stopping some cars and motioning others, my dad's car included, to exit the highway. Then, a wave of hundreds behind him marching south on the northbound side appeared and I knew I had found what I was looking for.
I immediately stood up, opened the sunroof, half-climbed on our moving car, and started filming. There were trees blocking my view, but a section of the crowd had turned around and was following the few cars they had directed off the exit. There were no police on-site at the time and hundreds of chants could be heard up and down the West Side Highway. They had successfully shut it down.
Nia Watson
The sound of the chants died down by the time we got off of the exit and turned on 125th St and 12th Ave under the elevated highway, where multiple precincts had gotten wind of the protestors. Overhead, an NBC helicopter headed in the direction we had just left. I started taking pictures again as police vans pulled up and blocked off both the southbound and northbound entrance to the West Side Highway, paying close attention to the officers' mannerisms and stances.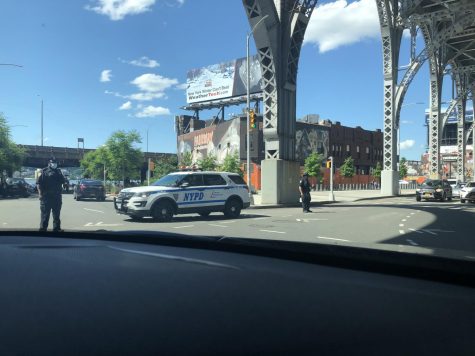 Looking back at the photos and videos I took–which were scarce due to the speed at which our vehicle was redirected–there is one in particular that I can't stop staring at. I had captured both men and women, white and black, marching and chanting together for one singular cause. But in the lower-left section, I noticed a man looking directly at the camera of my phone… as if he could see me. The determined yet uncomfortable look on his face speaks volumes. It's as if he were asking me, "What are you going to do about it?" 
His look made me feel like I was not doing enough. In a society that racially profiles, kills without reason, and threatens the future of our children, it is now the responsibility of me and my generation to organize protests and demonstrations with the sole purpose of making onlookers feel uncomfortable enough to not only take out their cameras and show the world but also to act themselves.
Next time I will be out among the protestors, capturing the uncomfortable faces of those seeking justice and seeking it myself.