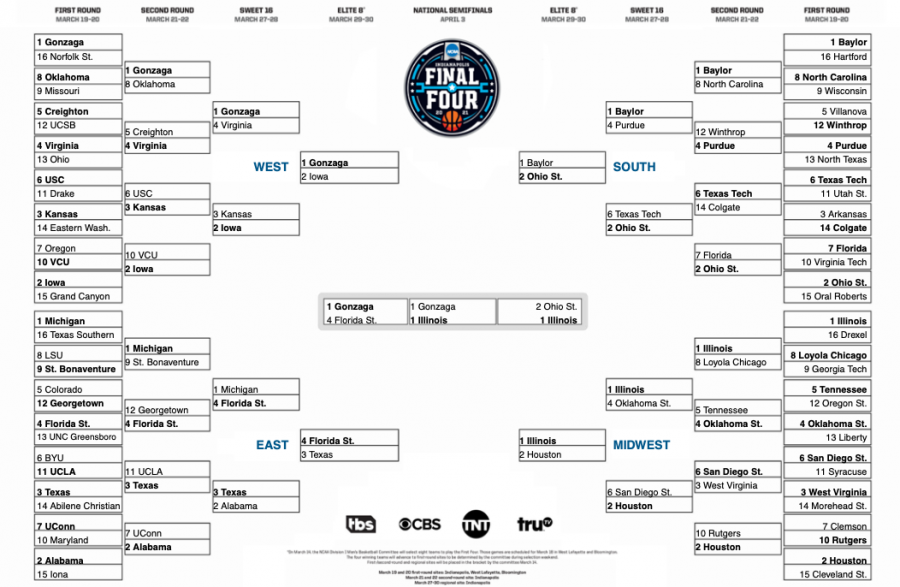 After five rounds of March Madness, the Final Four is finally here. Only one more game and these teams can compete for a national title. Surely, this is not the Final Four that I would have imagined considering I only predicted two of these teams (Gonzaga and Baylor) to make it this far. However, after adjusting my bracket I have predicted two teams to reach the national championship game. Here are my predictions: 
GONZ (1) v.s UCLA (11) 
Winner: GOZ
Why: After an impressive victory over Michigan, the University of California Los Angeles becomes the fifth team to reach the Final Four as an 11th seed.  However, what should have been an extremely close game between the University of Southern California and Gonzaga ended up being a blowout, proving that it's incredibly difficult to beat this Gonzaga team. This team is extremely well-rounded and is very difficult to pressure as they can shoot from virtually anywhere. They also have enough size to dominate in the paint and are efficient on defense. Freshman Jalen Suggs is arguably the most important part of this team with his confidence and versatility, but there are so many more options the Bulldogs rely on that are equally as talented. The only chance UCLA has at defeating this Gonzaga team is to be perfect on offense and extremely aggressive on defense- anything less will send them back home. 
BAY (1) v.s HOU (2)
Winner: HOU
Why: Baylor might be the second best team in the country, but one of their only weaknesses will come to haunt them this game: offensive rebounds. Baylor is truly terrible at preventing offensive rebounds, meanwhile Houston is arguably the best at getting offensive rebounds. This weakness will allow Houston to get a look of opportunities to score against a Baylor team that can score efficiently. Baylor is efficient on offense, however Houston ranks second in the nation in points allowed per game. They even stopped a streaky Buddy Boeheim previously in this tournament. It will take an impressive performance by Houston star, Quentin Grimes, who is one of the best perimeter players in the country. An additional factor that can help Houston is that one of Baylor's star players, Davion Mitchell, is extremely careless with fouls, while Houston is great at making their free throws. Yes, Baylor was expected to make the national championship game since the beginning of the season, but this Houston team will be incredibly difficult for them to stop.