"Conquering" the App Store
NVOT alumni make names for themselves with sports app Conquer.
November 24, 2021
Alumni Matthew Lee and Louis Long never imagined they'd be back at NVOT speaking to high schoolers about a business they started. But, on Thursday, October 14 they presented their app, Conquer., to students in the business classes that they had taken just a few years before.
Conquer. began as an idea between the two former high school athletes searching to regain the pure joy of playing sports. After graduating from NVOT in 2016, Lee and Long realized they had neither the time nor energy to play sports like they had in high school. "One random day, we realized that we don't play sports anymore," said Lee. After talking with students around their colleges—Lee was at Lehigh University at the time and Long attended Tulane—they found that others were in the same boat. Lee continued, "We found out we're not the only ones suffering from this problem and it's a lot of other people, which is why we realized that there is a demand for our product." 
Then, about a year ago, Long called Lee about an idea he had that would help keep people involved and competing in sports after high school. The two met an app developer and, nearly a year later, Conquer. was born. Long said, "Eleven months of work can get you from a blank document to a finished product."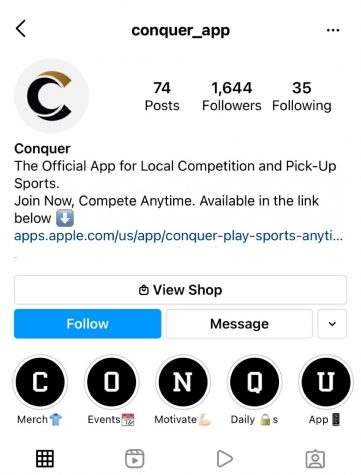 Conquer. is a platform that allows anyone to participate in pickup games and competitions of any sport with people in their area. The goal of Conquer. is "to facilitate widespread athletic competition for all ages and skill levels," according to the app's mission statement. After downloading the app and creating a profile, users can create their own pick-up games or join others. Conquer. encourages anyone who's interested to participate, regardless of their skill set. Their target audience ranges from ages 16 to 34.
At first, it was a struggle to balance both work and their new project. After much deliberation, and many conversations with their parents, both Lee and Long decided to quit their day jobs and pursue Conquer. full time. "We kind of had to take that leap," said Lee.
To expand their user base, Lee and Long first reached out to their former soccer teammates from high school because "they'd want to be on the app with us; they want to play again," Long said. From there, the app expanded out of Northern Valley to an assortment of colleges and universities. Conquer. now collaborates with collegiate athletes, finding a place on the social media of Jaden and Jahvon Quinerly, two players at the University of Alabama. Other basketball players such as Justin Minaya, an NVOT alum who now plays for Providence College, and Geo Baker and Ron Harper, Jr. from Rutgers University can be found on the app's social media, which contributes to the app's widespread growth. With the help of these athletes, Conquer. has spread to these respective colleges. 
One day, Lee and Long discussed the app with their high school accounting teacher, Antonio Marino, and entrepreneurship teacher Frank Rotella. After hearing about the idea, Marino and Rotella believed their students would benefit from hearing the alumni speak about starting their own company. Rotella said, "We thought it would be a good idea especially because the kids that are in high school now can relate to them—they're younger, and some of [the students] have older siblings who went to school with them." 
That's how, a few weeks later, Lee and Long ended up back in NVOT's South Cafeteria detailing their Conquer. journey to several business classes.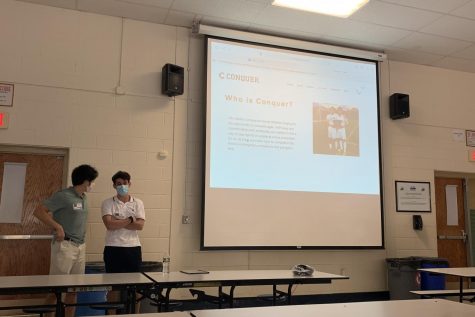 When Lee and Long talked about their journey to develop Conquer., the duo outlined the steps crucial for anyone starting a business. They explained to students how they registered a web domain, researched their target demographic, created a business model, generated revenue, and more. Whether they are reaching out to colleges, talking to investors, planning events, recruiting users, or meeting with marketing and developing teams, no day is the same for Lee and Long. 
"I admire how they strove for what they believed in and they took a really big risk in quitting their jobs to go to the next step of their company," said senior Mia Setrakian, a student in Rotella's entrepreneurship class, about Lee and Long's presentation. "It shows me that I can follow my dreams."
Developing their own business, although exciting, did not come without its challenges. Maintaining continuous involvement on the app was a struggle; in its early days, it was difficult to organize games while keeping users' activity levels up. The team also had to consider some safety concerns, leading them to implement measures to ensure users' wellbeing. Those under the age of 16 need parental consent to participate, and users cannot schedule events after 11:00 p.m. or before 5:00 a.m. With the measures in place, "[they] haven't had any issues yet and don't think there will be any," according to Long.
The team hopes to implement a new element: Conquer. Score. This feature will allow users to vote for a top player in a game, who will then be ranked on a leaderboard. This could be implemented as soon as January 2022. The company is also looking to facilitate soccer tournaments at the SuperDome in Waldwick, New Jersey.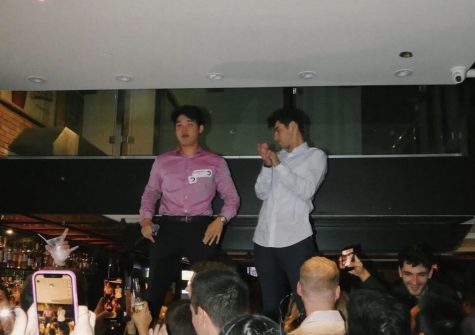 The future of Conquer. looks bright. On Saturday, October 23, the team held their launch party at Reilly's Plates & Pours in New York City. Close to 400 people attended to celebrate Conquer.'s drop on the app store, including many of their high school friends. With a large market in NYC, Long described the party as a way to advertise the app and "start dominating the Northeast." 
Students can learn a lot from Lee and Long. They encourage students to not be afraid to chase their dreams, as long as they plan to stay committed. If there's one thing Lee has learned, it's that you have to "risk it for the biscuit."