From School Halls to Carnegie Hall
Sophomore Chloe Choi may get the chance to perform at Carnegie Hall with the New York Youth Symphony
January 3, 2022
Chloe Choi was doing her homework when she received an email from the New York Youth Symphony that caught her attention. A few days prior, she had auditioned for the Symphony's Chamber Music Program and was now eagerly awaiting the results. There were two months of preparation leading up to the audition, where Choi and her Chamber music group, for which she plays the viola, had been practicing several hours a week. And it turned out their hard work had paid off—Choi and her group had been accepted into the program. With their acceptance, Choi will now compete for the chance to perform on the most prestigious concert stage in the country: Carnegie Hall.
Choi has attended the New York Youth Symphony's concerts every year since the seventh grade, so getting accepted is a full-circle moment for her.  She started playing in second grade when her parents took her to a music store and encouraged her to choose a musical instrument. Out of all the instruments there, the violin piqued her interest. However, earlier this year, Choi started playing the viola at the recommendation of her music teacher. According to her, the switch was seamless, as the violin and viola are very similar. After just a few months of playing the viola, Choi was ready to audition for the prestigious youth symphony.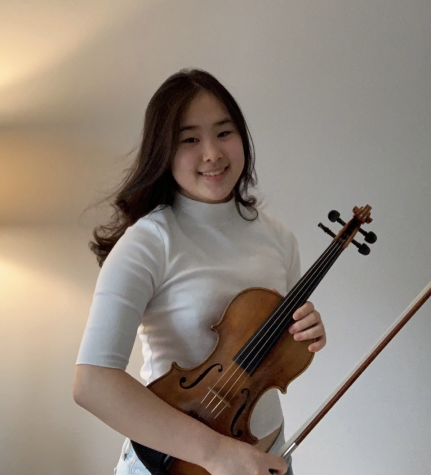 Admissions for the program are highly competitive, but the program itself is even more challenging. Currently, Choi is preparing for one of her major mid-assessments, one of two that are required for the program. Because of the high expectations, Choi tries to find time every day to sharpen her playing abilities. Still, practicing is not just another item on Choi's to-do list; playing the viola is her outlet for creative expression. According to Choi, playing with her group offers her a new way to look at music: "We all work together to play this piece, and it's really about the communication, the body language, eye contact," Choi said. "It really makes you feel close together as musicians, and it brings a new perspective to the music."
While the New York Youth Symphony program is intense, the rehearsals, workshops, classes, and coaching sessions have helped Choi to mature as a musician. "I wasn't really taught how to interact and question the music [before] because I played it just to play it. Getting into this program, they made me realize that playing it will not cut it," she said. "You really have to know what the composer wants us to do, and just play how you would interpret it." 
Even though Choi has struggled to build her confidence in music, she believes the program is gradually helping her ease doubts and become more comfortable with her playing choices. Choi is unsure if she will pursue a career playing the viola, but she still wants to continue entering competitions and expanding her experience overall. For now, with the help of the New York Youth Symphony, Choi looks forward to continuing her growth as a musician.