Staying in Tune With Her Roots
How playing the guzheng keeps senior Yan Landau connected to her culture
February 4, 2022
When social studies teacher Jennifer Fernandez's World History class walked in on Thursday, January 13, senior Yan Landau stood at the center of the room with her instrument at her side. As the students filed into the room, she was filled with nerves, preparing to perform for them. She saw the surprised looks on their faces as they noticed the instrument with a rather unique appearance in the center of a circle of chairs.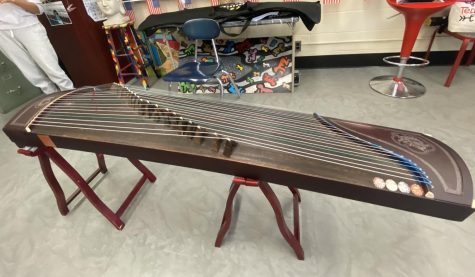 Once everyone settled in, Fernandez introduced Landau as a former student of hers and explained that since the class was studying China's history, Landau would be playing the guzheng (pronounced "goo-chang"), a traditional Chinese plucked-string instrument. Although it is a prominent instrument in China, it is less widely known in the United States. Having had Landau as a student for three years, Fernandez knew that Landau played the instrument. "[It's] so specifically Asian, and I thought it would be a great opportunity for her to introduce this cultural traditional aspect into my [class's] Asia unit," Fernandez said.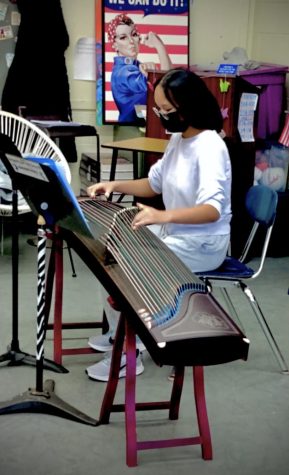 Landau has been playing the guzheng since she was 12 years old. She comes from a musical background—her father plays the bass and her mother plays the violin—but it was not her parents who introduced her to the instrument. In fact, she was originally exposed to the guzheng while she was living in China. While its five-foot length may appear daunting, its appearance is what attracted Landau in the first place. She said that she saw a video of someone playing the instrument and thought to herself, "Oh, that looks so cool, I want to try it." 
And so she did. 
Landau's initial curiosity evolved into enduring excitement and admiration. "I never thought I would become so passionate about this instrument," she admitted. As she has grown, she has come to appreciate the guzheng for not just its appearance, but its sound and the feeling of playing it. Landau explained that playing the guzheng allows her to "express her emotions."
Since Landau moved to the United States five years ago, the instrument has taken on an even greater significance. According to Landau, playing the guzheng connects her back to her Chinese roots and culture because it is "what's familiar, what's comforting," she said. "It also helps me to connect to some of the things I lost when I came here."
However, it is not just the instrument itself that is special to her, but also the traditional Chinese music she plays along with it. "The sound of the guzheng and the Chinese traditional style of music comes together and makes it unique," she added.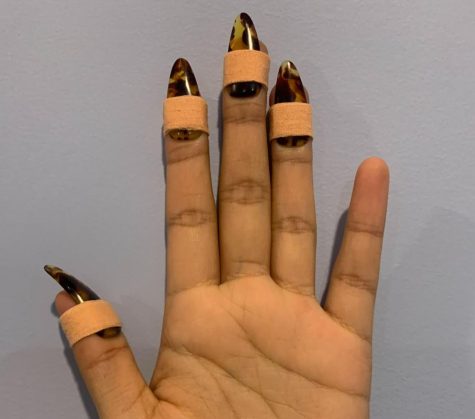 Landau highlights that the guzheng is markedly different from all of the Western instruments she has tried. Throughout her time in the United States, Landau has tried the flute, mellophone, and French horn. "With these three instruments, I play one note at a time. Sometimes I play the main melody, and sometimes I fill the chords. With guzheng I play the main melody, fill the chords, and play more than one note at a time," she explained.
She added that she uses her fingers to pluck the strings of the guzheng, and has to wear finger picks while she plays. When Landau first saw the finger picks on a guzheng player, she originally thought they were hand "injuries." In reality, finger picks are worn to enhance the sound and protect fingers from blistering.  
While Landau has dedicated years of long, strenuous sessions to playing the guzheng, she has no plans to play professionally. She emphasized that she plays it solely because of the love she has developed for the instrument and the connection it brings to her culture.