Mercado Hits the Mat
Senior Robert Mercado celebrates noteworthy first and last season of wrestling
February 8, 2022
While most seniors dedicate their final year of high school to goodbyes, Robert Mercado celebrated a new beginning.
On Wednesday, February 2, Head Coach Robert Ortiz called out the names of eight wrestlers to recognize them on their senior night. But unlike his teammates who stepped out onto the mat, Mercado was celebrating the first and last wrestling season of his career. 
"I joined [wrestling] at a time where if I loved it, I wouldn't be able to do it again next year," said Mercado. "It just makes me wish I joined earlier."
Mercado decided to wrestle this year at the advice of his best friend, senior Matthew Olivo, who wanted to play a sport with him in their last year of high school. Olivo knew that Mercado, a natural athlete, would catch on quickly. But by no means was learning the sport easy. Mercado describes wrestling as "very fast-paced," as there is usually only a two-second window to make a decision before the other wrestler puts a move in. But there was nothing Mercado couldn't handle. 
After finally learning the ropes, Mercado's hard work began to pay off. In only his second match of the season, he earned his first win by pin over his opponent from Tenafly. According to Ortiz, Mercado was in control of the match "from start to finish." He kept the momentum going and went on to win a match by decision against Hasbrouck Heights on Tuesday, February 1. He then showed out on senior night against Teaneck, helping to put points on the board for his team.
Aside from his athleticism, Ortiz notes how Mercado is an incredibly hard worker: "He arrives early to practice and regularly asks the coaches questions about technique." As the season progresses, Ortiz knows he will "make some important contributions to the team." Even though the entirety of his career will only span a few months, Mercado is committed to being the best he can be to help the team.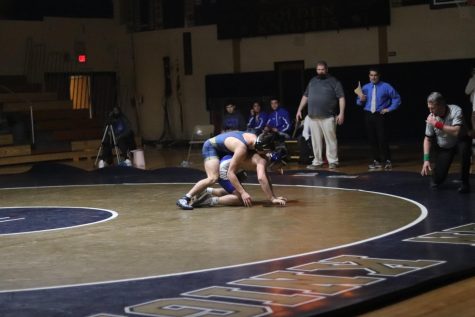 Most importantly, Mercado is a team player—a skill you cannot teach. "The most rewarding part of the season is being able to be a part of the team and getting close with all the teammates," he said. "I love everybody and I have so much respect for them." 
His respect for his team doesn't go unnoticed. Olivo said, "Having him on the team is great because you can tell he really loves it, and [he] builds a bond with the younger kids which not a lot of people can do." 
One of these younger wrestlers who Mercado has taken under his wing is freshman Jonathan Rotolo. "[The] kid's a legend, and I can't wait to see him kill it the next three years." said Mercado. 
Rotolo, whom Mercado refers to as "little bro," values the senior's guidance on and off the mat. "He pushes me to get better and is always willing to help me," said Rotolo. 
Mercado knows "[his] role is to just go out there and wrestle," and he aims to always give it his all. Even after he leaves this year, Mercado hopes his impact on his younger teammates will stick with them, and he looks forward to watching all of them compete in the future.
From learning the sport in Olivo's basement to stepping out on the mat on his senior night, Mercado sends a message to those wondering if they should pick up a new sport: It's never too late. As the season draws to a close, the team looks forward to a strong finish, and Mercado hopes to soak in every last minute of his short, yet special time as a wrestler.