Un-Bella-lievable
Senior Isabella Chugranis gets her 100th hit and breaks school single season hit record.
May 12, 2022
Some students may excel in math class, others at a musical instrument, and some in art, but for senior Isabella Chugranis, her speciality is breaking pitchers' hearts and breaking records… at the same time. 
On Tuesday May 10, Chugranis hit a single that earned her her 100th career hit and broke the NVOT single season hit record for the first time in 12 years. "I feel nothing but pride," she said after reaching this milestone. 
Chugranis was able to get her 100th hit from just over two full years of varsity play. Her freshman year she served primarily as a pinch runner, and her sophomore year was canceled due to COVID-19, causing her to lose confidence: "Losing our sophomore year made me believe that I would not do it simply because there was not enough time," she said. 
But it was this doubt that ended up being "a blessing in disguise," Chugranis explained. While she did contribute to the team with one hit her freshman year, it was Churgranis's junior season where she established her monumental impact to the program, posting big numbers with 48 hits and 24 RBI's. 
Returning for her senior year, Chugranis wasted no time. So far this season Chugranis has 13 doubles, 2 triples, 4 home runs, and 25 RBI's which all contribute to her 54 hits this season, breaking the 2010 record of 50 hits from NVOT alum Kelsey Morgan. 
Chugranis's teammate, senior Olivia Cataldo, who also earned her 100th hit last week, described how much it meant to watch her teammate experience the same feeling. "Sharing the 100th hit dream with Bella just makes the special moment even more meaningful," Cataldo said.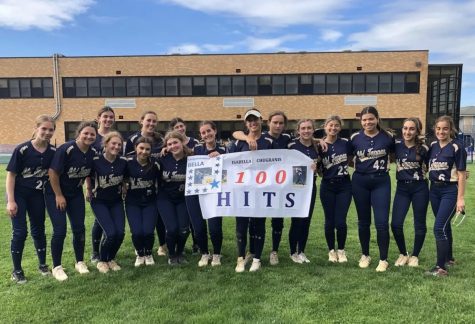 Chugranis's dedication to the game has led her to continue her career at the collegiate level. "The beauty of softball is that you can always improve," she said. "Reaching my goals is what motivates me to be better."
Chugranis will take this drive and commitment to St. Peter's University in the fall, joining their Division I women's softball program. But, here at home, Chugranis and her teammates still have work to do before the season ends. 
The Golden Knights have won their first two county games, and will face the Fair Lawn Cutters on Saturday, May 14 at Immaculate Heart Academy where Chugranis hopes to continue her success up at bat.