The Lance's Hot Takes 3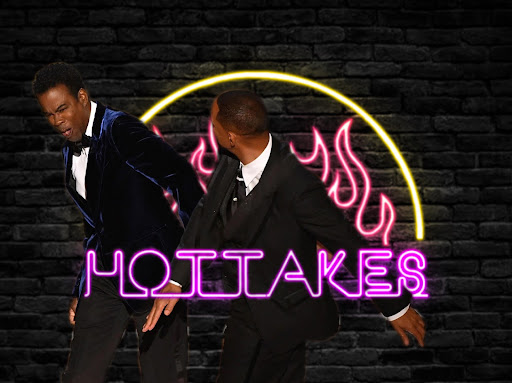 What's up OT? Livi and Gianna here, with special guest Sophie!
We know you missed us. Lets recap awards season, shall we?
Will Smith vs. Chris Rock 
We are all in agreement here… Team Chris Rock is the only team.
If you're Team Will Smith, you're canceled.
SOPHIE: There is no doubt that the G.I. Jane jab was disrespectful—and maybe even deserving of a slap—but does it mean it should have happened? Absolutely not. Even Jada thinks it was an overreaction… 
LIVI: If he was that compelled to engage in physical combat over this comment, he should have taken it to the parking lot. By no means was assaulting Chris Rock acceptable, let alone doing it on live television at one of the most prestigious events of the year. Smith is supposed to be a role model for all of the children and teens worldwide who idolize him, and could have given the impression that these actions are deemed acceptable. 
GIANNA: The event was just so sudden. All that Rock did was his job—which was presenting at the award show and making comedic remarks along the way. Smith's actions were unwarranted and far too extreme. What was he trying to prove? It felt more like Smith was reacting to a personal jab against himself. Honestly, based on the track record of their relationship, he owes Jada NOTHING. 
LIVI: Yeah… I don't like that Jada girl. 
Will and Jada's relationship is known to be toxic (and open?). Back in July of 2020, when Jada's public affair with August Alsina was all-the-news, Will and Jada took to Red Table Talk, Jada's talk show, to air out their marital issues. Fans got a look behind the scenes of this Hollywood power-couple, and truth-be-told, it wasn't good. The two seemed very hostile while talking about the ill feelings they once had towards each other, and we aren't too sure those feelings were left in the past. The two even blessed us (I'm being sarcastic) with footage of a shared fist bump while saying "We ride together. We die together. Bad marriage for life." 
Overall, Jada seems to be an extremely manipulative and toxic figure in Will's life, which could be a potential motivator for the Oscars incident. Whatever the reason, he acted completely irrationally. 
SOPHIE: Not only did Smith's behavior overshadow his own first Oscar win, it also overshadowed every award given for the rest of the night. CODA made history with its Best Picture win, a huge step for the deaf community, yet the figurative spotlight wasn't on them. No one paid CODA's big win the attention it deserved because everyone was still trying to figure out what happened with Will and Chris earlier in the night. 
What's even more unbelievable to me is the fact that Smith was able to accept an award 10 minutes after assaulting someone onstage—with a standing ovation nonetheless (except for Zoë Kravitz, but we saw how the internet treated her and other celebs who spoke out). Are we missing something? In what world are those actions deserving of praise? 
NEW GROUND FOR JOKES

After the Oscars incident, the Grammys took advantage of the comedic gold. Questlove, Trevor Noah, and Nate Bargatze all understood the assignment, and delivered.
SNL also had some fun with the slap. But we saw this coming from a mile away
Kathy Griffin via Twitter: "Let me tell you something, it's a very bad practice to walk up on stage and physically assault a comedian. Now we all have to worry about who wants to be the next Will Smith in comedy clubs and theaters."
Our very opinionated take on the Grammys
Best New Artist
Real Winner: Olivia Rodrigo
Our Winner: Olivia Rodrigo
This was well deserved. 
Rodrigo debuted her first-ever single drivers license on January 8, 2021, and instantaneously made a name for herself in the music industry. Rumors of her being a one-hit-wonder were completely shut down after the releases of her follow-up singles deja vu and good 4 u that both achieved massive commercial success. Her debut album SOUR did not disappoint either, making a huge splash in the music industry and placing her amongst the A-listers.
Best Duo/Group Performance
Real Winner: "Kiss Me More," Doja Cat and SZA
Our Winner: "Kiss Me More," Doja Cat and SZA
There is little to be said about this one. Doja and SZA are the ultimate duo, and together, they created one of 2021's most notable pop-anthems. You can't help but sing along to this song.
We believe these two women deserve the world. The acceptance of this award was very on-brand. As the winners were announced, the camera queued to SZA. Decked in vintage Jean Paul Gaultier, she elegantly crutched her way to the stage. Doja hastily arrived on the other side of the stage—she stayed true to her child-at-heart nature (that fans adore) when she acknowledged that she had been in the bathroom at the time the award was given out. And, we quote, "I have never taken such a fast [bathroom break] in my whole life." Though she joked at first, her acceptance speech quickly got very sentimental as she shed happy tears. 
One of the best moments of the night.
Best Record & Best Song
Real Winner: "Leave The Door Open," Silk Sonic
Our Winner: It's complicated
We love Leave The Door Open just as much as anyone else. But did it deserve both Best Record and Best Song? Probably not. This song is good, don't get us wrong, but there were records and songs nominated that made much bigger impacts. For example, "Happier than Ever" by Billie Eilish and "drivers license" by Olivia Rodrigo.
However, it's hard to be mad at Bruno Mars and Anderson Paak. While we don't necessarily believe they deserved the sweep, THEY ARE JUST SO FREAKING COOL. Their acceptances also made our list of the best moments of the night. 
Best Pop/Vocal Album
Real Winner: SOUR, Olivia Rodrigo
Our Winner: SOUR, Olivia Rodrigo
LIVI: SOUR, to me at least, was a year-defining album. While Olivia might not have brought a new ground-breaking sound, there was nothing not to like. The album was exactly what it needed to be: relatable, spunky, sad, fresh. Many feel as though the young talent may have gotten lucky with this award, but I feel as though there was little luck to it, rather an overwhelming amount of talent. 
GIANNA: Yes, SOUR had an unbelievable amount of streams and quite literally broke the internet. However I don't believe this should be the deciding factor of the award. Maybe it's the Doja Cat-bias, or maybe I just got sick of hearing "drivers license". 
Best Rap Album
Real Winner: Call Me If You Get Lost, Tyler, the Creator
Our Winner: Call Me If You Get Lost, Tyler, the Creator
Correct, very correct. Another iconic Tyler release takes the prize.
Best Album
Winner: We Are, Jon Batiste
Who our winner is: Planet Her, Doja Cat
Who is Jon Batiste? That may be a controversial statement, but are we wrong? We are not happy. When we think of 2021 music, albums like Happier Than Ever, SOUR, and Planet Her are at the forefront of our minds. 
Planet Her would have been the perfect choice for Best Album as well as the perfect curve ball to end the night with. This album was pop-gold. It was a perfect representation of both the trends within the music industry this past year and the way that Doja has taken center stage lately. 
Grammys fashion
It stunk so bad. Period.
Notable mentions: Olivia Rodrigo, SZA, and Doja Cat—they showed up everyone. Silk Sonic also looked good, but what's new?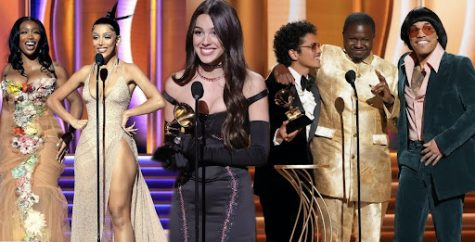 Anyway, that's all we have for you today. But don't get too upset—this isn't the last you'll be hearing from us.
XOXO, your public relations editors (and Sophie!)