The Lance Tries: Guidance's Favorite Holiday Desserts
The Lance takes a trip back to the kitchen to replicate some of the guidance counselor's favorite holiday treats
Here at The Lance, we love the holidays. There's something magical about that first snow, Christmas lights, dreidels– you name it. But let's be honest: some of that holiday magic is a product of what's done in the kitchen. And by kitchen, we mean food. And by food, we mean dessert. 
With this sweet mentality in mind, I wanted to spark some inspiration and try some new recipes. So, I headed down to the guidance office and discovered what each of the counselors crave during the holiday season. After making my list, I just had to try these recipes for ourselves. What screams "holiday season" more than some homemade baking and taste testing while blasting Christmas music in the kitchen? 
So if you're looking for a way to bribe your counselor into writing a good letter of recommendation, I recommend baking one of these sweet treats. Or, at the very least, you can potentially discover your new favorite holiday dessert. 
This warm, raspberry-filled sugar cookie treat was Mrs. Fitzpatrick's choice for a Christmas dessert, and I are so on board. The recipe itself was relatively easy to make: Most of the ingredients are ones you probably already have in your kitchen: butter, sugar, eggs, flour, etc. Once the dough was made, the hardest part was actually making the star shape, even with the help of a cookie cutter. Next up was another layer of star-shaped dough on top, nine minutes into the oven, and voila—a beautiful star-shaped cookie creation that according to my mother "is good enough that you can use it to pay rent."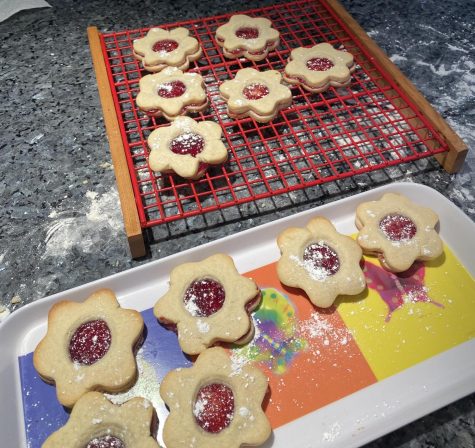 Popovers were next on the menu, highly requested by Mrs. Vion who says that her mother makes the best homemade popovers she's ever had. The ingredients list was basic, the batter took only minutes to make, and then all I had to do was pop it in the oven for 25-30 minutes, and I had my very own homemade popovers. Now, let's keep in mind that my batter was not entirely blended and I supplemented a muffin tin for a popover tin, so I can't say that this was my favorite holiday dessert. My consistency was off, and it lacked a bit of flavor, but hey, I would love to try Mrs. Vion's Mom's popovers anytime.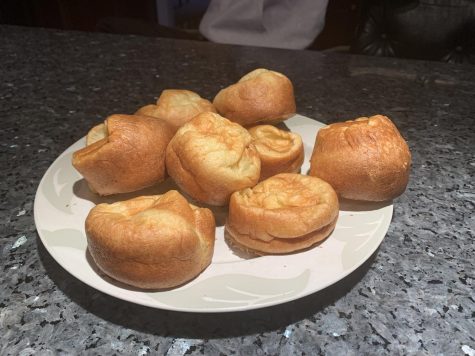 Pumpkin Pie was without a doubt the most highly requested dessert. Mrs. Cavaguagh, Mrs. MacRae, and Mr. Spatz all said that pumpkin pie was their favorite holiday treat — whether it's homemade, or they're just indulging in someone else's work.. There's something about pumpkin, cinnamon, and that crispy pie crust that screams "holidays" for them. So, with so much hype around this clear fan favorite, I had to give it a try for myself. Since I'm still a high school student and am swamped with work, pre-made pie crust was the move, but the filling was all me. Just a few key ingredients and some spices whisked together, about 50 minutes of baking time, and you have your pumpkin goodness (which tasted pretty amazing if I do say so myself). One might say this recipe was as easy as pie.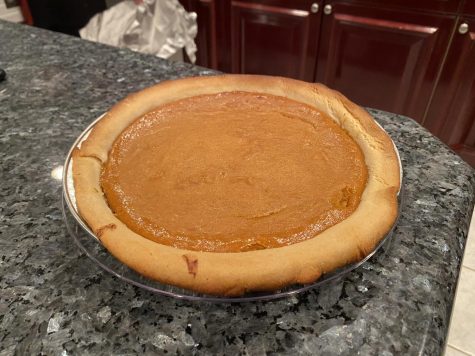 I am a big believer in the expression "work with what you have", especially when it comes to baking. Upon entering the guidance office, I got into a very exciting discussion about Rachel's English Trifle from Friends, when Mrs. Luby shared that her favorite holiday treat was an Oreo mint trifle. Being the lovers of Friends and Oreos that I am, I had to give this one a shot. The only issue was that I didn't have any mint Oreos. So, this is where I worked with what I had: A layer of double stuffed traditional Oreos, some chocolate pudding, another layer of Oreo goodness, topped off with homemade whipped cream (that I made green to add the mint effect), and BAM — an Oreo "mint" trifle! This was quick to make, tasted delicious, and you can alter the recipe to fit your wants or your needs.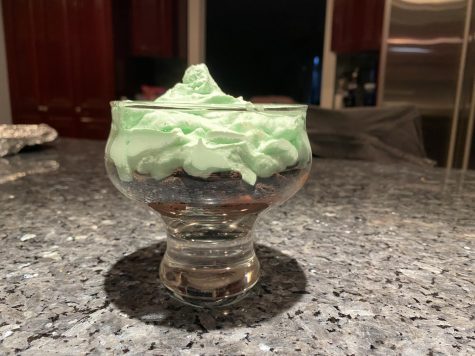 Remember when I said baking was as "easy as pie"? Well that expression does not apply when corn syrup is involved. When Mrs. Esposito told me that her holiday favorite was pecan pie, she failed to warn me that the syrup mixture you had to make for the filling left a sticky mess all over the stove top— a sticky mess that left me scrubbing pans for 15 minutes. However, aside from the hassle of making such a sticky syrup to combine with the pecans and cleaning it up afterwards, this holiday treat was surprisingly tasty—even though my taste buds and pecan pie generally don't mix.The only thing I switched up, and now highly recommend, is using light corn syrup (even though the recipe calls for dark) to add an extra pop of sweetness.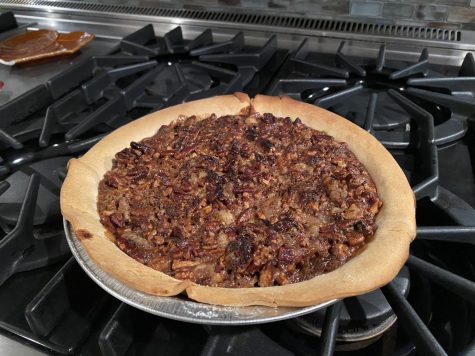 In between holiday shopping and keeping up with my school work, I unfortunately didn't have time to bake all of guidance's wonderful holiday treats. So, here are my honorable mentions this holiday season: 
A classic at everyday holiday table, this was Mrs. Rupp and Mrs. Hubbard's pick for their favorite dessert, and I am so here for it. What's more delicious—or American— than apple pie?
Normally you see these being purchased from gourmet Italian bakeries, but homemade is always better. Give these cookies a try, and if you have some extra, bring them over to Mrs. Orr in the guidance office (rumor has it that they're her favorite).
This is not just a holiday treat; it can be served year round, and it was Mr. Corso's pick for a Christmas time dessert. Not only is it visually appealing, but I've heard it's as delicious as it looks. The only downside is that it can be an intensive baking project, so make sure to leave your patience cap on when you give this one a go.
There are so many amazing holiday treats out there, on this list and beyond. So whether you plan to tie on that apron and get messy in the kitchen, or you're more of a store-bought person when it comes to the holidays, I hope that your kitchen is filled with some type of baked goods to warm your hearts and your homes this holiday season.