Track is Back at Penn Relays
Four Golden Knight relay teams score big at national track and field competition
The girls and boys track teams competed at Penn Relays this past month after the competition took a two-year hiatus due to the COVID-19 Pandemic. Penn Relays is the largest and most prestigious track and field competition in the nation, held annually at the University of Pennsylvania. The two NVOT teams competed in the 4x100m and 4x400m on Thursday, April 28 and Saturday, April 30, finishing top three in each event they competed in.  
On Thursday, the 4x100m relay team of senior Jola Olutiola, sophomore Abigail Dennis, and freshmen Gabby Du Toit and Samantha Kranzler placed 4th all-time in NVOT girls track history when they ran 50.79 seconds in their heat. 
Dennis said, "The adrenaline of being on a stage like that helped us perform our best, especially for me being the last leg."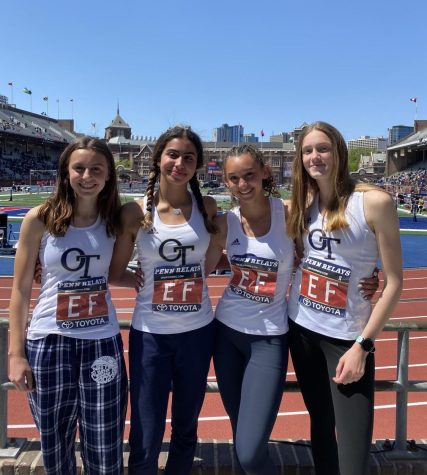 In the 4x400m event, seniors Alicia Acosta and Cara Hliboki, junior Kate Meeks, and Dennis earned silver in their heat with a time of 4:10. 
Hliboki was especially excited for this meet since she hadn't competed at Penn Relays since her freshman year. "The meet is such a great experience because we got to race as a team on an iconic track," said Hliboki. "[These races] are true team events."
On Saturday, the boys track team headed the Penn Relays for the final day of events. Seniors Ryan Tacchi and Ryan Leocata, junior Matthew Malora, and sophomore Goran Saric ran a 3:31 in the 4x400m, earning them a bronze medal and third place in their heat. 
"It was a great atmosphere," said Saric, who experienced Penn Relays for the first time. "We were just competing for ourselves to have fun."
This event was particularly special for the handful of seniors on the team as they competed in the prestigious event together for the last time. "Being able to watch my teammates place in the top three of each event was surreal because they've worked hard all season for these types of moments," senior Holly Latz said. Although Latz was unable to run due to injuries, all the seniors were invited to experience their final meet at this prestigious event. 
The track team's next meet is Tuesday, May 10 at Teaneck High School.