Girls Track Stays on Top
Golden Knights bring home National Division League Championship
For the first time in four years, the Golden Knights brought home a National Division League Championship in track and field. The girls team competed against four other schools in the Big North National meet on Wednesday, May 4.  
The Golden Knights competed in 12 events and placed first in six of them. "We all gave it 110 percent and were just able to come up on top," said senior Lauren Cappelmann. 
Sophomore Abigail Dennis brought home first place in the 100m dash and the 200m events. Dennis also ran a 14.40 in the 100m hurdles, setting a new school record and making her the fastest in the state in that event. Dennis said that even though she hit her goal time, her "favorite part was cheering and watching [her] teammates run."
Senior Cara Hliboki swept three events as well, taking home first in the 800m, 1600m, and 3200m events. Senior Alicia Acosta, juniors Kate Meeks, Kristen Johnson, and Melissa Brennan, sophomore Rowan Leddy, and freshman Samantha Kranzler also contributed to the league title with their individual stats on the track. 
"While we did have some outstanding individual performers, it was great to see how every member of the team worked together to win the title for each other," said Hliboki.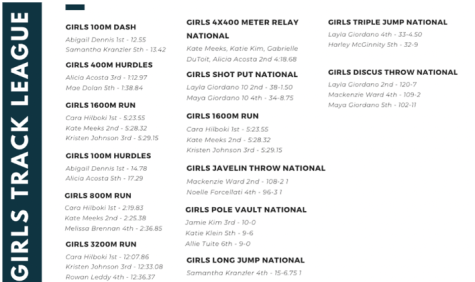 In the field events, sophomore Layla Giordano threw a school-record-breaking 120 feet and seven inches in discus Wednesday afternoon. L. Giordano brought home second in shot put, with Maya Giordano following close behind in fourth. In javelin, junior Mackenzie Ward won silver, and freshman Jamie Kim placed third in pole vault. 
While the team had to take down four other schools to clinch the league, it was beating school rival, N.V. Demarest, by 20 points that made the moment special. "It's always a competition between us and Demarest," said Cappelmann. "We have been training for a result like this, and the girls showed up extra hungry today." 
While the girls have already clinched their league title, they look to continue their success by sweeping leagues in their dual meets. The Golden Knights are currently undefeated in dual meets, and will take on the Teaneck Highwaywomen on Tuesday, May 10, to earn the overall highest standing in the division. 
With a league title under their belt, the girls will now look toward their county and state meets. "We're just focusing on one meet at a time," said Hliboki. "We're all just excited for what's to come." 
The Golden Knights will compete in the county meet on Friday, May 13 and Saturday May 14, which is hosted annually at NVOT. State Sectionals will occur on June 3 and 4.