Baseball Brings Home Big North Title
The Golden Knights have #momentum as they head into the county tournament
For the first time in six years, the Golden Knights baseball team brought home a Big North National League Championship. On Monday, May 9 the boys headed into their title-clinching game riding the #momentum of a nine-game winning streak. Stepping up to the plate, both literally and figuratively, the Golden Knights clinched the league title against Tenafly with a decisive 4-0 victory. 
Junior Alex Kranzler pitched 14 strikeouts in 7 innings against the Tigers to help lead his team to the first Big North National title since 2016. Kranzler also contributed at bat with one hit and one run, along with senior Louie Mosca who had one run and a single. Junior Elan Ofeck also chipped in with a double and two RBIs to help secure the team win. 
Kranzler attributed the win to not only the boys performance on the field, but also their camaraderie off the field. "We've all honestly come together as a team," he said. "Everyone is rooting and pulling for each other, and at the end of the day all we want to do is to win games." 
And winning games exactly what the boys have been doing. "Working hard and staying focused was one of the biggest things we had to do this year in order to dominate our league," said senior James Keating. "This means a lot for us seniors…and I see a bright future for this program."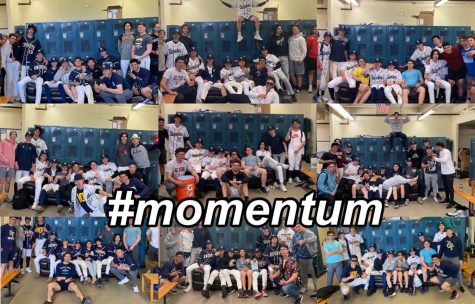 As the boys continue to build that future, the team is also looking to create a new reputation for Golden Knight baseball. The boys had a league and state run from 2007-2009, bringing home two league titles and two state sectionals. Kranzler and the Golden Knights are now hungry to "bring back how Old Tappan baseball was in the past." 
Senior Max Nasjletti expressed a similar sentiment: "Don't think this is a fluke," he said. "This program is back on top." 
Coming off the league win, the boys will look to continue their #momentum as they head into the postseason. The Golden Knights currently hold an 8-1 record in their league, and will head into the first round of the county tournament on Sunday, May 15 as a three seed.