Catch Us If You Can
The girls track and field team brings home first county title in 31 years
In a given season, some teams win games and some have a postseason run, but for the NVOT girls track and field team, they are here to leave a legacy. On Saturday, May 14, the Golden Knights won the first county championship in the program since 1991. 
The two-day county tournament is held annually at NVOT each year, where nearly 30 schools participate on the first day, and 55 schools come to compete on day two. This year, the girls were placed in Division B where they faced Pascack Valley, Dwight-Morrow, Riverdell, Demarest, Ridgefield Park, Mahwah, Indian Hills, Lodi, Leonia, Garfield, and Fort Lee in their given division. 
"To be able to showcase our talent at one of the biggest meets of the year and come out on top is something so special to our entire program," said sophomore Maya Giordano. 
The Golden Knights had five individual champs bring home gold, with sophomore Abigail Dennis sweeping first in the 100m, 200m and 100m high hurdles, breaking a school record with a 14.28 in the high hurdles. 
The meet was a collective team effort, as any girl who placed within the top six earned points for the team. "In order to get all the points we can, we had to put athletes in events they aren't completely used to…they need us to help out, so we did," said senior Alicia Acosta.  
While it was key to collect points from all events, there were also individual performances that stood out: Senior Cara Hliboki ran a 5:06.2 in the 1600m, placing her second on the NVOT All-Time list, similar to junior Mackenzie Ward who is also now #2 on the NVOT All-Time list for javelin as she threw a new PR (personal record) of 132-2 on Saturday afternoon. Junior Kate Meeks also left her mark, running a 11:37.9 in the 3200m, putting her at #10 on the NVOT All-Time Top 10 results list.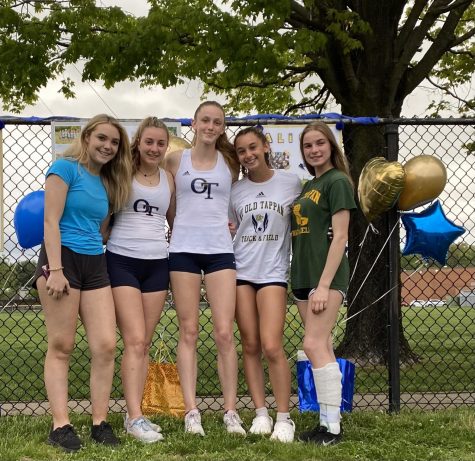 The girls are used to competing in meets all year long, but The Gene "Red" Littler Bergen County Meet is a chance for the Golden Knights to showcase themselves on the biggest stage in the entire county. "When competing in such a big meet with so much on the line, you feel a variety of different emotions, but the two main feelings are excitement and nervousness," said M. Giordano. 
It's in those moments of peak nerves that the Golden Knights rose up to the challenge, clinching a county title on home turf for the first time in 31 years. "It just feels great to know that our team is winning all these achievements that haven't been done in so long," said sophomore Layla Giordano. "It just goes to show the variety of talent we have on the team." 
The girls will take this momentum of both a league title and county championship as they continue to prepare for future meets this season. The Bergen County Meet of Champs will take place this Friday, May 20th, where the Golden Knights will have 12 girls participating. All participating athletes must be ranked in the top 18 in the county for their given event. 
After counties conclude, the girls will partake in the states series which includes three separate meets. State sectionals will take place on June 3 and 4 in which each school can enter up to three people per event. After sectionals, the Golden Knights will then look towards state groups on June 10 and 11 in which athletes are required to place top six in their given event at sectionals to qualify. The State Meet of Champs and National competitions which both occur on June 18.