NVOT Golf in the Driver's Seat
Boys golf brings home a county championship and fifth straight State Sectional title
For most teams, being able to hoist up one trophy at the end of the season is enough to feel fulfilled, indicating a successful program and thorough execution throughout the season, but for the NVOT Boys Golf team, one trophy wasn't enough: they had a standard to uphold. 
The boys were looking to continue their legacy with a Bergen County championship and a fifth straight State Sectional title. No amount of pressure was too much for the boys, instead the Golden Knights rose up to the occasion. This season the boys went on to capture not only a county tournament win, but also bring home a Group 2 State Sectional title. 
The State Sectional tournament allows each team to bring five players to compete, and the four best scores for each team count toward their total, making it a collective team effort in order to win. This year, sophomores Michael Buckley and Jun Chun, juniors Luke Chang and Tim Clune, and senior Aaron Song represented the blue and gold in states. Head coach Thomas Quinn said, "All the varsity players are slightly different in how they prepare for golf but all of them are driven to do very well and play for the team." 
The Golden Knights won their group with a combined score of 342, claiming a State Sectional title for the fifth year in a row. The team win, both at the county tournament and State Sectionals, came from a highly experienced team, with second-year captain Aaron Song helping lead the squad his senior year. "There was a lot of pressure," said Song. "We wanted to achieve more than our underwhelming season last year."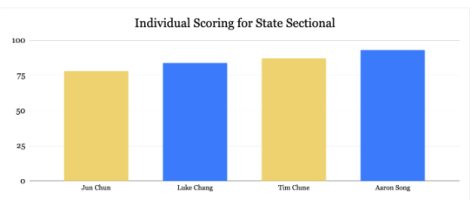 The Boys Golf dominance was not limited to one piece of silverware, as the team also claimed a County Championship. Shooting improved to 318, and together the boys held their ground over competing schools, finishing nine strokes ahead of the second-place team. 
"The boys played really well and were able to pull their weight in helping us achieve more than we could imagine coming into the season," said Song. "It felt really nice to be able to hold up that trophy." 
This year's accolades remind the team of the feeling of triumph, a feeling that the underclassmen will look to emulate as the Golden Knights look to continue their tradition of winning. "We got a lot of experience, almost everyone's coming back next year," said Quinn. With veteran players on the green this year, most of which are still underclassmen, the dynasty of NVOT boys golf is far from done.