The Mid 3
Reflecting on the Donovan Mitchell Trade and the Front Office
When you think of a Big 3 in the NBA you think of LeBron James, Dwyane Wade, and Chris Bosh going to the Finals four years in a row and racking up 12 all-star appearances. Then you have the Splash Brothers, Steph Curry and Klay Thompson, who teamed up with Kevin Durant to form an unstoppable team which won two championships and averaged 73 points per game altogether. Both Big 3s are worth around $300 million. The New York Knicks actually have three players worth more than $340 million this year, perhaps a new big 3. Or as senior Marcello Delillo describes it, "a Mid 3." As a loyal Knicks fan, it has truly been devastating to watch this team completely fall apart because of the front office.
Instead of putting their money into a superstar to come save NYC, the Knicks have spent $340+ million on new signee Jalen Brunson, and returning players RJ Barrett and Julius Randle.  To put this mega three-way contract into perspective, the Celtics' Jaylen Brown, Marcus Smart, and Robert Williams are all individually better players than the Mid 3, and are worth less than $100 million combined. "Now why are the Knicks burning money? After all of these years of rebuilding and getting young players, we throw it all down the drain," said Delillo, who blames Knicks President Leon Rose for the catastrophe.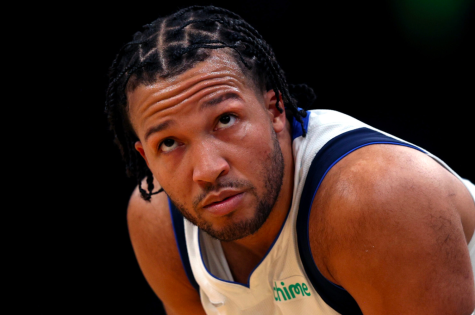 The problem in the front office is that the franchise tried to build the team around Julius Randle, who had a Mickey Mouse lucky 2020 NBA season. This led to the acquisition of shooters and playmakers like Kemba Walker and Evan Fournier to work around Randle. Big problem: those three players were busts last season and took time away from the young, developing players. When it came time to realize that mistake and rebuild once again, suddenly, the Knicks were blessed with a golden opportunity to trade for superstar Donavan Mitchell from the Utah Jazz. Instead of putting their effort into acquiring Mitchell, the front office completely turns away and dumps all their leftover cap space into the Mid 3. 
Other fans remain faithful through all the chaos. "I'm happy we get to keep RJ and Mitch [Mitchell Robinson]. Thibs [Knicks head coach Tom Thibodeau] will develop the youngsters and create a good, charismatic team this season," said senior Jonathan Levy. Many fans see Thibs as a great coach, but in my opinion, he presses defense too much leading the Knicks to lack in their offense.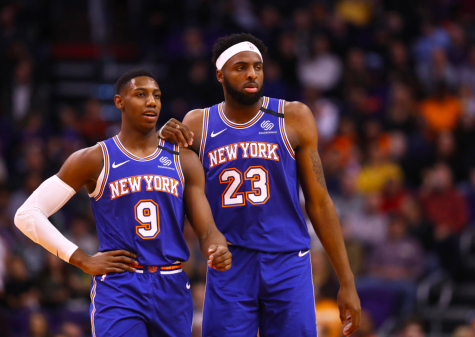 "The problem isn't coaching, it's Randle. Thumbing down the crowd and his game IQ is absolutely awful. 90% of the time, he either turns the ball over or bricks those highly contested fade away post shots" said junior Micheal Greenberg, "trade him." A hot take by Greenberg indeed, as trading Randle would get rid of numerous blatant problems, such as more minutes for developing drafted players (Obi Toppin) and more cap space to enter a re-rebuild. Hopes of trading Randle are up, now that Andrew Wiggins is rumored to be involved in a possible trade after his contract extension. But who knows if that will even happen, with all the let downs of the past couple years. 
Just two years ago, the city had so much hope when the Knicks made the playoffs for the first time in eight years. That hope, slowly yet surely, has faded like a morning dream. The truth is, there are multiple areas leaking that need to be fixed in order for the Knicks to become a playoff-guaranteed team. The Knicks have to refocus their interests on acquiring stars to be a winning team again, something they stuck out on in the Donovan Mitchell negotiations. More than anything, the New York Knicks have to be exciting again.