The Trials and Tribulations of Defeating the Norseman
Girls soccer brings home a win against NVD in overtime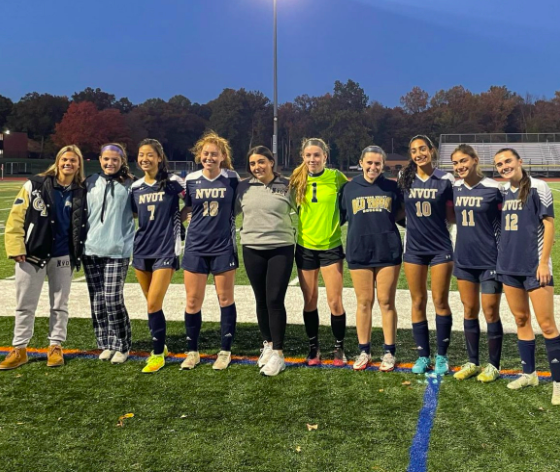 After the girls soccer team and Demarest tied with a score of 0-0 in overtime on September 28, the Golden Knights found themselves up against the Norseman again in their last regular season game before states on October 20. As the team entered overtime against NVD for the second time this season, the girls knew if they wanted to win they had to step up. 
The girls did exactly that after captain Natalie Carril scored the game-winning goal in overtime. 
The team went undefeated for the first five games of the season; but after hitting a block after losing against Ridgewood 2-1, the team had doubts as they faced the rest of their season. However, this wall didn't weaken the team; it made the team's bond stronger. "We've definitely picked things back up again and it definitely has boosted our team spirit," said co-captain Juliana Morrissey, "Being consistent and winning these games makes everyone much more appreciative of one another, making the team a lot closer."
With Morrissey sidelined for the majority of the season due to injuries and the team losing momentum, the Golden Knights knew if they wanted to win against NVD they had to push themselves even more. "We have struggled more than expected this season, so we knew we had to step it up for this final league game," said Carril. "Our communication on the field improved significantly which led us to the win." 
For Carril and the other seniors on the team, beating NVD was an indescribable feeling. "Knowing it was my last regular game ever I was so happy to end it that way," said Carril. "Playing NVD for me is always a challenge and takes a lot of grit, but we pulled through in the end and I couldn't be happier."
With a successful regular season under their belt and the team more bonded than ever, the girls will take on states later this month.