College Fair Comes Back
Students reflect on college admissions
As late fall approaches and the Class of 2023's college admission journey comes to an end, juniors begin a grueling year of trying to maintain deadlines, extracurriculars, and GPAs. 
On Thursday, October 20, NVOT hosted a college fair with representatives from 110 colleges, universities, and other institutions for students and parents to review post-graduation options. The fair invited admissions officers to talk to students and parents to clarify the college application process and to promote their school. 
The fair was open to students from both the Northern Valley and Pascack Valley from grades 9-12. According to the Director Of Guidance Matthew Spatz, "The year is very busy in terms of academics, so any opportunity that you can have many resources in one place represents a very efficient time to get things done."
For some juniors, attending the college fair made them feel more confident in their college search. "The fair clarified that the colleges I was already interested in applying to would be a decent fit," said Rachel Choi, a junior interested in studying history or political science. Although it made her feel better about the process, Choi hoped for more variety in the schools she was applying to.
For some students, the college fair only heightened the increasing anxiety about the college admissions process. "I thought it'd make things more clear, but it just reinforced that I have work to do on my own," said Sophia Ashbahian, an aspiring major in the liberal arts field the fair added to her already existing anxiety.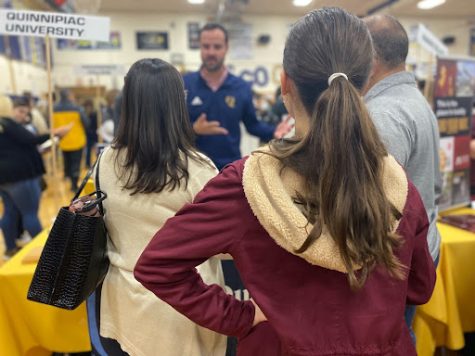 While the fair increased anxieties for some, others felt overall more positively about the event. Rachel Koo, who is leaning towards the STEM fields, explained, "It was a good experience because I got to know more colleges and some colleges even better."
Although juniors might have mixed feelings about beginning the college search, Spatz emphasized "This event [and others like it] are so helpful in building confidence in the process."