Volleyball Served
Girls volleyball team season wraps up seasons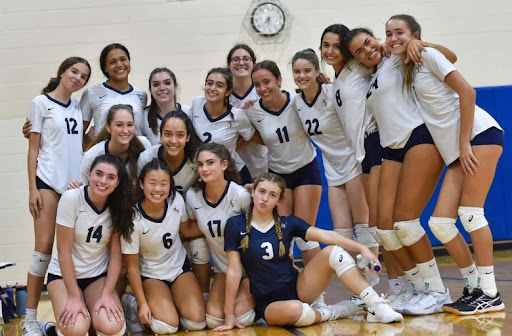 For the Golden Knights girls volleyball team, the season was filled with low digs and high serves. Despite the girls' loss in the first round out of state semifinals, the team's camaraderie on and off the court made the Golden Knights successful. 
The team, led by captains Jackie Carlos, Emma Gobo, and Molly Emr, finished with an overall record of 17-6 this season. The captains were "great leaders that led by example [who were] always positive," said freshman Eva Curko. 
Landeck emphasized the importance of preparation for the team's success on and off the court: "The team has been working hard at playing consistently and error-free. We aim to make practices as competitive as possible, so it prepares us for the competition we face in games." This preparation led to an impressive number of 527 kills this season, with leading scorer Samantha Kranzler contributing 196 of those kills.
According to Carlos, their 2-1 win over Tenafly was one of the biggest achievements this season as they stopped Tenafly's undefeated streak. Carlos said the team "promised each other we would just go out and have fun [and] it ended up paying off with the winning result and it showed us what we were capable of." 
As the team moved forward into the season, the way they "pushed [them]selves to be the best version" of themselves was the key to their success. Gobo said, "The entire team put in so much effort to get where we wanted to go [and made] improvement as individuals and as a team," said Gobo.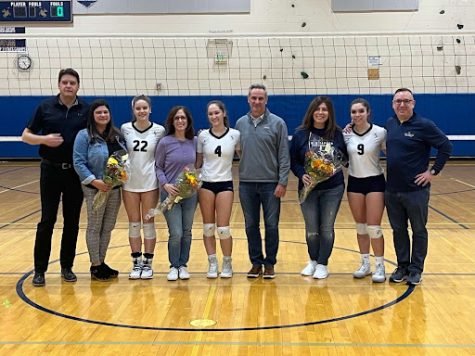 The team started their journey to the state tournament after finishing their regular season with a 2-0 win against Ramsey. During the first round game, the team had a combined total of 22 kills leading them to a 2-0 victory. 
In their quarterfinal round against Demarest, defeating their rivals was an enormous accomplishment. Kranzler contributed 15 kills which led the girls to a 2-0 victory. The team played Demarest three times this season, losing their first game, but getting redemption further into the season with a victory for the first time in three years. 
The team ended their season with a 2-0 loss against Sparta  in the state semifinals on November 3. 
"The team came way above my expectations this year [and] stayed strong and all pushed through it," said Gobo. She will leave her leadership responsibilities to the upcoming seniors who she knows "will handle the position with so much care and effort." While the seniors are sad to leave the team, they are excited to see the team grow in future years.
Carlos said, "This season may not have ended the way we wanted it to, but we had such a fun time playing together and improving together." She knows "they will be very successful in the future, and [she] can't wait to see what they will accomplish."