Spotlight on STANJ
On Saturday, January 7, the students from the theater department competed in the annual Speech & Theatre Association Of New Jersey (STANJ) Governor's Awards Competition at Montclair University. Students took home top awards in Musical Ensemble, Comedic Monologue, Comedic Pairs, Improv Pairs, Musical Theatre Pairs, Best Actor, and Scene. 
After intense preparation and hours of competition, the Golden Knights took on STANJ and took home awards, and placed among 20 other NJ high schools.
According to senior Zoe Fleury, the preparation process for this event was done differently from what the theater students were used to doing: "My scene with Dylan Alcruz was completely self-directed. I think we had 15 minutes the day before," Fleury said. Most of the rehearsing and practice took place in the theater classes and oftentimes lasted until 10:30 p.m. just doing scenes.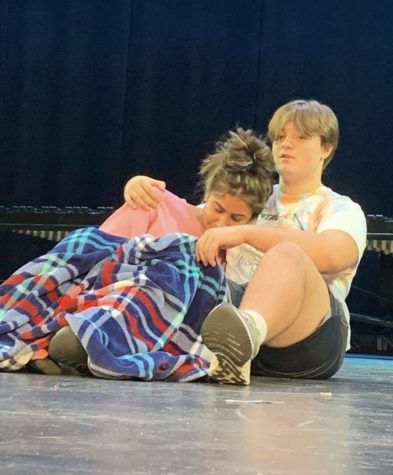 Alumni also returned to help with preparing for the event with the NVOT theater students. Fleury said that the alumni would "watch the scenes and give us criticism," which was helpful in preparing for the official event. 
Though STANJ ends with awards and friendly competition, theater students took more than just that from the event. Fleury, the winner of the Governor's Award in the Comedic Pairs category alongside junior Dylan Alcruz, said it was "a collective and school-spirited" event that brought everyone together.
For students, the quick-paced event with the students running room to room was an experience like no other. Senior Joe Gilhooly, who placed in the top three for Best Actor, Scenes, and Musical Theatre Pairs, said that they all "bonded through a lot of quick problems solving" and felt like he "bonded with everybody in the program on a different level that we haven't really done before." 
By the end of the competition, the theater students walked away with new experiences and bonds. Most of all, it was a chance for them to showcase their months of practice and preparation. Gilhooly said that going to STANJ was a chance "to prove to ourselves that no matter what you throw at us, we're gonna come out on top."