New program prepares students for healthcare careers
The Lance gets you an appointment with the new Institute for Sports Medicine and Exercise Science
Athletic Trainers, orthopedic surgeons, team physicians, and other sports medicine professionals are the backbone of sports healthcare. They encompass skills of prevention, examination, diagnosis, treatment, and rehabilitation of injuries and medical conditions and are ready to jump in from the sidelines when someone is injured. To prepare students for careers in these high-demand fields, NVRHS welcomed the Institute for Exercise Science and Sports Medicine in the fall of the 2022-2023 school year.
A group of 21 students clustered together in B207 forms the inaugural class of the Institute for Sports Medicine and Exercise Science, a four-year Career Technical Education (CTE) program that introduces students to the scientific prin­ciples that underpin physical perfor­mance as part of the Bergen County Institutes for Science and Technology (BCIST) 
During the first-year Career Technical Education (CTE) course, students gain broad exposure to the different areas of sports medicine and learn athletic training techniques. In their freshman year alone, students learn "stretching, joint wrapping, icing, injury cause and prevention, and emergency injury management," according to the program's website. 
"
Everything that they see, they get to do.
— Laura Pinkman
Unlike traditional science courses, Sports Medicine offers a practical curriculum which gives students the opportunity to dive head-first into the world of sports medicine. According to Sports Medicine teacher Laura Pinkman, "the best thing about sport exercise science as a major is that there's so much hands-on associated with what you're doing, and the benefit for these students is that not only are they learning the science,…but everything that they see, they get to do."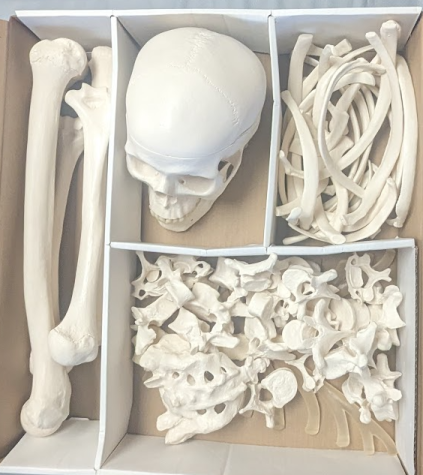 This hands-on application and physicality has helped students develop a better understanding of what they learn about in class. "We have to palpate each other, and palpate ourselves because a big part of athletic training and sports medicine is actually doing it," Sports Medicine freshman Charlotte Malady said. "It's one thing just learning it and memorizing the muscles or bones, but it's another thing like actually feeling on a human's body."
The course's interactive nature has allowed the students to get experience working in a team to treat patients, a crucial skill for medical professionals who interact with all kinds of people on a daily basis. "It's such a collaborative environment. And we've already built such a close-knit group of classmates working together every day," Sports Medicine freshman Payton Kremer said. 
"
I got to understand my injury more than when the doctor explained it.
— Sadie Murphy
What many students are finding meaningful about the program is how quickly they have been able to apply what they are learning to their own lives. "I've got to connect to it a lot, because in the past six months, I've had ACL issues and I just tore my meniscus and in this case, we were actually in the knee and knee ligament unit. So I got to understand my injury more than when the doctor explained it," Sports Medicine freshman Sadie Murphy said.
However, the application extends beyond injury prevention and treatment. Students have been able to apply what they've learned to help with sports performance. "For archery, when I pull, sometimes there's something wrong, or sometimes I have pain in my arms. But now I'm starting to understand it better. And sometimes I'll think, 'maybe I should modify this or do that," said Sports Medicine freshman Iklim Ergut. 
Though the new program offers an intensive training for future medical careers, the valuable lessons are life skills that can be applied to whatever students decide to pursue. "They get all these soft skills, the hands-on skills, problem-solving skills, communication skills, and tactile kinesthetic skills that they will experience in the class," Pinkman said.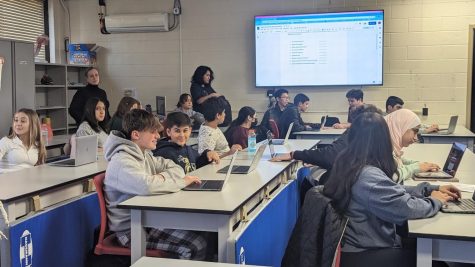 The program's first few months have given students broad exposure to a wide range of topics in sports medicine and athletic training, giving them a concrete look into the future: "I wanted to do this program, so I could see how I can apply that to my real life. And hopefully I could do that in the future. Because if that's something that interests me for the future. I wanted to start early, so I can know how it feels too," Murphy said.