Wrap Line Catastrophe
Are we really going to wait this long?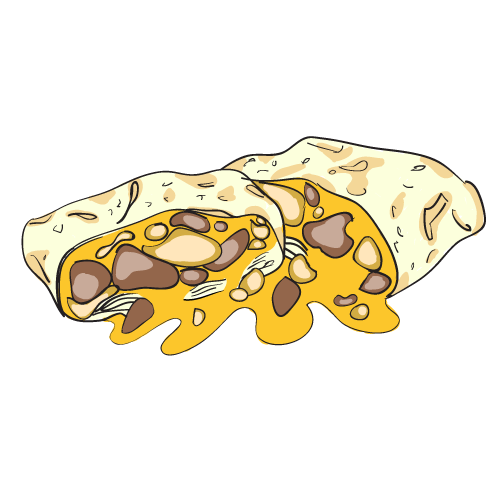 When I started at NVOT my freshman year, it was not just the stellar athletics and academics that I heard people rave about— rather, it was the Golden Knight's wrap line that captivated many of my friends. And they were right about all of it. 
My relationship with the wrap line starts all the way back to the first time I tried a wrap…just some cheddar cheese, lettuce, bacon, chicken, and chipotle sauce. Just the usual, yet so delicious. When you have been starving for two hours straight, it's a great lunch to fill you up in seconds. But, the main problem is that most times it could take up to half an hour to get a wrap. Although sometimes the line looks short, it is deceiving. We might as well have another lab because it takes up half of our lunch just to get a wrap. It's time for the school to realize that we are all starved by the time lunch rolls around, and the line is to blame.  
If we are comparing the wrap line to the normal cafeteria line, we can obviously say that the normal line is way longer than the wrap line. But you know it's a problem when you're all the way in the back of the line, completely down the hall, and you still get your food before you would when waiting on the wrap line. This is because there are six ladies working in the cafeteria versus the one working the wrap line. Even if you're at the end, you still get your food before the lab bell rings. 
Although the line is particularly long, the wrap lady isn't the problem herself. Jane Hidalgo, the wrap line lady, says "I like it much better over there, I love the kids, the more of them, the faster the time goes for me." 
Hidalgo wants to make sure the wrap reaches your expectations of awesomeness. She makes sure she asks you the exact measurements of sauce or dressing that you want, instead of just pouring an overloaded amount on. If you get a wrap quite often, she'll even remember your face with the order. I love her, but we need another one of her. 
So if she's loving her job, and we love her, clearly there's a bigger problem. I have sprinted in the halls to get to this line early, but by the time I get there, it's still too late. You get those days when you get super lucky, and you're only behind three people, but that's rare. If the only reason that this is a problem is that there is only one lady doing all the hard work, having more than one wrap lady is definitely a positive way to start. I can guarantee you that every student feels the same way.