First Competition In A Higher Class, First Place
Winter guard wins at Bridgewater-Raritan High School
On March 11th, the winter guard competed at Bridgewater-Raritan High School, winning first place with a score of 71.9. This was their first competition in their new higher Scholastic double A (SAA) class after originally being in the Scholastic Regional A (SRA) class. 
The winter guard's program is called "Moon and Beams" where they perform with wooden beams and along with the song "Moonlight Sonata". The team is a combination of NVOT and NVD students, led by NVOT captain Denisse Renderos and NVD captain Kaylie Shelton. 
This accomplishment doesn't come without its risks. Trish O'Shea, director of the winter guard, said, "judges keep telling us to 'rise to the challenge'. We plan to do just that!"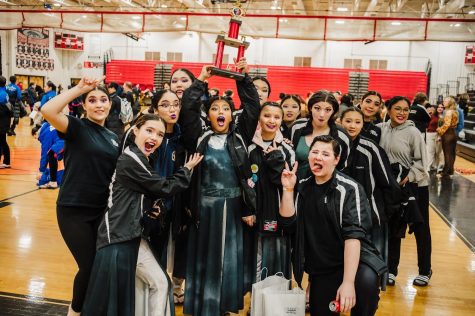 Renderos said the team wasn't able to "perform to the best of [their] abilities" at their last competition on March 4, but the team "strives to put their best foot forward when performing" and saw their new score as a win. Renderos is determined to "score higher at the next competition." 
O'Shea won the best director award during the competition and is proud of the winter guard's recent victory. She says the winter guard has greatly improved this last season, especially with the winter guard moving to a higher class. She says, "Our philosophy going into the competition was to have a performance that we were all happy with! We definitely accomplished that!" 
Shelton says, "The next three competitions are super important as one is a regional and two are championships. We will continue to work hard and face these challenges!" 
The winter guard will compete for the Winter Guard International (WGI) Regional in Bethlehem, Pennsylvania on March 18th.