Girls' volleyball earns group 3 title
Loss in the Tournament of Champions caps a challenging, yet successful season
The volleyball team has worked hard this season, earning themselves the title of Group 3 State Champions and taking them all the way to the Tournament of Champions, said head coach Melissa Landeck. Although it was difficult at times as a result of losing a player and facing injuries, the team has "surmounted many challenges.. [and] has been very resilient," said Landeck.
On Saturday, November 18, the volleyball team played in the Tournament of Champions at William Paterson University. According to Landeck, "we were excited to see how we can do against some of the other state champions." They won their first set against Verona High School with a score of 25-21, but they lost the next two sets. "The game was upsetting to lose, but it was a good fight," said junior setter Kelly Chen. However, Landeck is "very proud of every player on the team… [who] remain[ed] determined to improve every day, up until the last day of the season."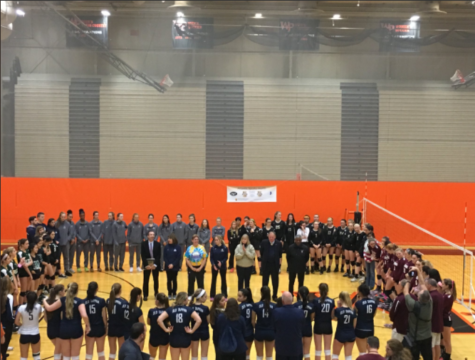 According to Chen, "The season in general was tough, but we fought hard for every game, which was what made it fun." Aformer recipient of New Jersey's Coach of the Year Award, Landeck "is amazing and I'm lucky she's my coach," said Chen.
"To win three consecutive state titles and the last two Tournament of Champions titles is something very special. I am very grateful to all the players on the team for their hard work," said Landeck. Although the volleyball season has come to an end, Landeck said, "They have put in a great deal of work to earn the right to call themselves State Champions."