Politician on the Premises
For the past few weeks, social studies teacher Jennifer Fernandez's history classes have been researching women's issues for Women's History Month. However, they got exclusive insight into the very experiences they were researching when International Business Consultant and candidate for the Congress of the Dominican Republic Laura Fernandez visited them on Tuesday, March 21. 
During the visit, L. Fernandez shared her journey to politics, her experiences navigating a male-dominated political sphere, and the lessons she has learned along the way. She also shared her experiences as an immigrant and the work her foundation does to advance the status of women in the Dominican Republic.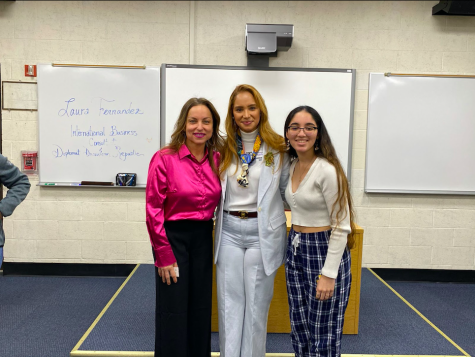 L. Fernandez splits her time between the United States and the Dominican Republic, making trips to the Dominican Republic every one to two months to fulfill her responsibilities as a diplomat and work on her congressional campaign. However, when J. Fernandez found out that one of her students' mothers was running for Congress in the Dominican Republic, she jumped at the opportunity to have her speak to students. "I was getting to know her and really wanted my students to hear from her, particularly because of the research that they've done on women's issues and themes, especially this month for Women's History Month," J. Fernandez said. 
L. Fernandez's talk offered meaningful insight into her experiences with gender discrimination in the political field. She specifically recounted the time a dignitary denied business on the grounds of her gender: "I remember I traveled to one country—I introduced myself, 'I'm here to make business. I represent the Dominican Republic, [and the dignitary replied] 'You're a woman? I'm sorry, I don't like to do business with women.'"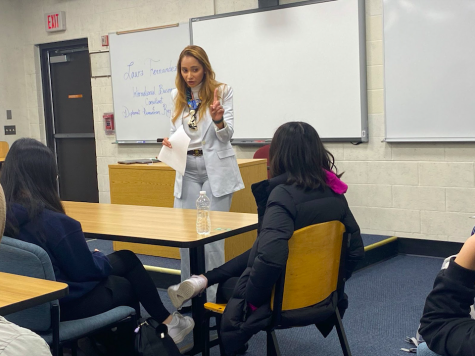 Students who heard from L. Fernandez found her message and story inspiring. "It was just so motivating seeing someone who had gone through so much but continued to persevere until she had reached her goal and still continued to strive for more despite all the external factors trying to hold her back." freshman Hala Aljabbouli said.
After sharing her journey in politics, she offered students advice. "Don't be scared. Don't be afraid. But be empathetic all the time," she emphasized.