Knicks Win in 5
First Playoff Series Win in a Decade
Against all odds, the Knicks have moved on to the second round of the NBA playoffs, for the first time since 2013, after defeating the Cleveland Cavaliers. Let's break down what happened and what is going to happen:
To start off, Jalen Brunson has solidified his status as the best player on the Knicks. He has constantly been THAT GUY who has been able to clutch up and be reliable, scoring 20+ points each game of the series. On offense, he cooked Darius Garland like a porkchop. The only flaw in this little engine is his defense. 
Now the casuals out there are probably like, "Julius Randle's the best player, Lil Drew (rapper name) what are you talking about?" Randle has put up a puny 14 PPG this series. The first four games were brutal to watch with Randle on the court, which is why Coach Thibs even pulled him out for the whole fourth quarter in Game 4. He has been an absolute brick, showing shades of Playoff Randle 20-21 (not good). His iso game was anemic this series, and in order to make a playoff run Randle needs to step it up. 
Now onto RJ Barrett, the most controversial player on the team. Personally, as an RJ hater, I'm happy he is finally stepping up and asserting himself on the court. He has stopped shooting and begun to embrace being a pure slasher, dominating with his left hand at the rim. After finally finding his place, RJ managed to put up more points in the last three games than the Cavs' star player, Donavan Mitchell. Still, however, his major flaw lies in his defense. Every time RJ is on defense, his man manages to get a wide open look. Coach Thibs, who puts an emphasis on defense, hopefully slaps him around a little bit for this.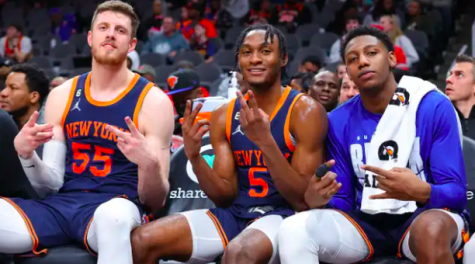 Onto our team's great role players: first we got Mitchell Robinson, who had one of his best games of his career in Game 5. He has asserted himself as the most underrated defensive player of the league, grabbing unlimited offensive boards and blocks on the so-called "best defensive frontcourt in the league," in Evan Mobley and Jarret Allen. He has been splitting minutes with Isiah Hartenstein, who is also an absolute dog. Next, we got Josh Hart, who has been a hustle MVP of the series. He probably made the biggest defensive impact on the court with his forced turnovers and work on the glass. And we cannot forget about Obi Toppin, who stepped up when Randle couldn't.
Overall, the city finally has hope, and things only look better after the 8-seed Miami Heat defeated the 1-seed Milwaukee Bucks. Which is why, the Knicks will overcome the odds again and defeat Jimmy Butler and Miami in FIVE.