Morgan Wallen's Downfall
Upcoming concerts postponed up to a year
You have your cowboy hat on and the cute boots that cost you over a hundred dollars. It's finally here–the concert you have waited forever for. You arrive and sit in your seat, excited and screaming for Morgan Wallen to come out. A guy walks on the stage and everyone cheers, thinking it's his opener. But wait—it's just a normal guy?  And he's telling you that the concert is canceled? 
When Morgan Wallen, a well-loved country singer, canceled his concert on April 23, he put his fans in this exact scenario. He told fans that he "lost his voice" by posting a big sign on the front of the stage. He never personally addressed the fans, instead leaving an arena full of people angry at the last-minute move. "I flew three hours to this concert just for it to not happen," a fan said in a TikTok comment section "that's time and money I could never get back."
Although there were rumors swirling in many places, Tiktok has played a big part in spreading the backlash. Many fans posted videos saying that him "losing his voice" was just a cover up for what really happened. So what actually happened? No one really knows. But we do know that one of the security guards claimed that, "Wallen was too drunk for his performance" and said his reason for losing his voice was 'bull crap'". One fan was so disappointed that they filed a lawsuit against him, but it later was "voluntarily dismissed" and forgotten about.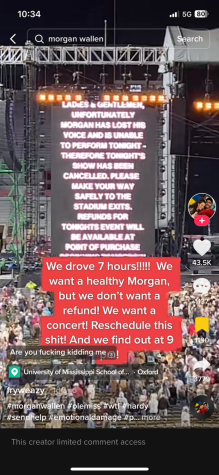 What he did to the people who showed him so much support was unacceptable. A refund isn't what they want, they want to hear Wallen with their own ears. 
On May 9 Wallen posted a video to his Instagram telling fans he could not sing for six weeks, because of the vocal cord issue. So now, the concert taking place at MetLife Stadium is postponed to next year. People are furious. Fans have planned to drive and even fly from far distances to see him; he can't just postpone it last minute like this.
Many fans put in tons of effort for an outfit and put in time to get there to enjoy the concert. Now fans have to wait over a year to see Wallen live. Fans don't want to keep on waiting since they have already been for such a long time. 
Gracie Gallucci, NVOT student that got tickets at MetLife, says "I feel bad for Morgan Wallen and hope he gets better, but having to wait a whole year to watch him perform is ridiculous. I have been looking forward to this concert since December, it just feels surreal."
People are starting to compare him to other artists that are on tour right now. "Do what Luke Combs did" or "take note from Taylor" are comments that have been repeated recently. As Morgan Wallen fans, we think he should take action like them. No one wants to wait a whole year to see him after they have already been waiting. 
Luke Combs, an equally popular performer, lost his voice before a show. Instead of canceling it, he still made his fans proud. Combs refunded all of his fans and continued the show while having the song he was singing behind him. This way he had help while singing and gave his fans a show. The same goes with Taylor Swift who is on tour right now. She is making her fans proud with her back-to-back shows which have been electric. These singers have never been problematic or caused anger within fans. 
Although postponing it, isn't technically canceling it, he should've definitely gone about this a different way.