Golden Arts Hosts Matthew Scott Benefit Concert
NVOT arts alumnus returns to theater company
On Saturday, May 20, NVOT Golden Arts hosted the Matthew Scott Benefit Concert, raising money for the theater department and all school musical. The concert included a VIP reception with NVOT arts alumnus Matthew Scott, plus performances from Scott and current and past students. 
Scott, who has starred in various Broadway shows like Jersey Boys, An American In Paris, and Sondheim on Sondheim, worked alongside Broadway Musical Director Vladim Feichtner for the concert, who worked on Spelling Bee and Falsettos. 
Two featured NVOT student ensembles also performed: "Great Big Stuff" from their recent musical production of Dirty Rotten Scoundrels and "Children Will Listen" from Into the Woods, their 2020 spring musical. Originally, the show was going to only feature Scott. However, theater teacher Susan Van Buskirk said Scott wanted to bring his show back to Old Tappan to not only reconnect with his community in a new way, but also to "involve the kids."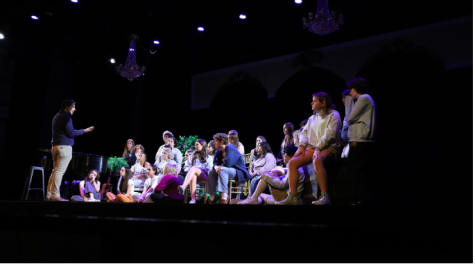 NVOT students were able to absorb everything he shared in his journey from a Golden Knight to a Broadway actor. Junior Ava Gallucci said, "It's not every day that someone comes into your theater program having been on Broadway." Seeing the success of an alum provided a new perspective for students. Gallucci added, "It was different than just some random master class or workshop because he went to NVOT and was in the same place as all of us are now."
Van Buskirk said events like Scott's benefit concert allows NVOT alumni to "bring the new  knowledge that they learned and give it to our kids." The Matthew Scott Benefit Concert not only raised money to support the theater program, but created new relationships between an NVOT alum and current students.