Smoky Scenes
Haze from Canadian fires blanket New Jersey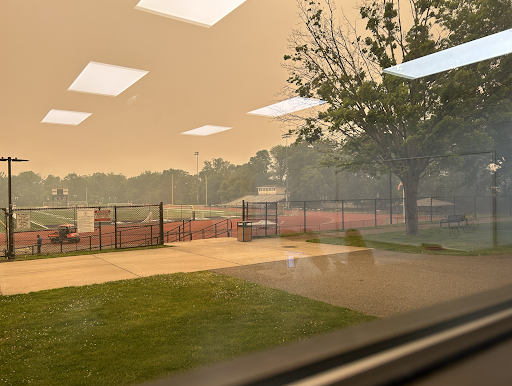 Smoke from the heart of Quebec has migrated down to the northeastern region of the United States, causing the skies over the Northern Valley to be covered in yellowish-gray smoke. 
The Canadian wildfires, caused by lightning strikes and dry weather, started in late April. Air quality alerts are in effect and news reports emphasize the harsh effects the polluted air can have on people. There have been no casualties in Canada or America, but those with lung issues have been told to stay inside as much as possible. In these conditions, for people even without health issues, going outside for longer periods of time could cause "health effects like a runny nose, shortness of breath and sneezing, among others." 
Students and faculty may be at risk with the yellow haze surrounding the Northern Valley community. However, in an email sent to the entire Northern Valley community, Dr. Sabatini said, "We have taken steps to ensure the good health of our students." On Wednesday and Thursday, PE classes and practices were moved indoors, and student lunch was limited to indoor eating areas.
These conditions have left many of the students and staff concerned. Sophomore Samantha Mufson said, "My mom has a lung disease, and she keeps coughing, and she needs to stay inside."  
Biology Teacher Maryanne Lovelace said, "It makes me sad that the fires are so out of control. The news doesn't seem real until you see it for yourself."
Until the situations resolve, authorities recommend limiting outdoor activities, keeping windows closed, and using air purifiers to limit contact with the pollutants in the air.