New Chickadees at OT
Meet Rookie, Cookie, Bookie, Wookie & Bob Dee
After discovering a nest outside the history wing this Spring, English teacher and bird enthusiast Jeffrey Train started a school-wide bird naming contest to welcome the newly hatched chickadees to the community. 
In collaboration with fellow English teacher and bird lover Brooke Zelcer, Train came up with names for Mr. and Mrs. Dee's five fledglings. Zelcer's Creative Writing Class provided naming options, and the school community voted for their choice. With 25% of the votes, the little chickadees are officially known as Rookie, Cookie, Bookie, Wookie & Bob Dee. 
The newest addition to the NVOT flight committee has been raised in a nest box created by Steven Maietta's students back in 2020, where Mr. and Mrs. Dee [the chickadee couple that lives on campus, no relation to English teacher Jennifer Dee] built their nest with moss, fiber, animal fur, and other things they gathered around campus, where Mrs. Dee incubated the five eggs for around 13 days and where the Dee family now lives. 
All it took were a few students from Maietta's class three years ago to bring more life to NVOT. As Train said, "making a space for people, for animals, wildlife, when we do these things, who knows how far, you know, they go."
Although Train found the hatchlings by checking the nest box, he advises students to stay away from nests because their presence can alert predators and they will raid the birds' home. He also advised them to "walk outside, you know, when you, if you can walk through the courtyard in between classes and you're just gonna notice something new."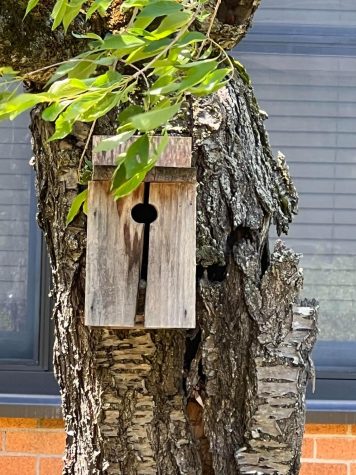 This project started to show students that nature is all around us and that we don't have to drive out to the middle of the woods to disconnect from the world. Train's personal goal is always to help kids appreciate nature. "Nature is the cure for a lot of problems in life, and when we focus on, for example, a family of birds, that's the process of life just happening right outside our window. It takes us out of our own heads," he said.