Boys Volleyball Season Recap
Northern Valley Boys Volleyball's first ever season
A new chapter of sports arrived at NVOT this spring. The Northern Valley schools welcomed a boys volleyball team for the first time in district history. Students from both Old Tappan and Demarest combined to make this possible. In their first ever season, the team put together an 11-1 record.
The team was led by junior captains Tyler Dolan, Armen Fergenti, Jared Yumul, and Eric Hwang. As rising seniors, they are ready to help the program grow next season and become one of the stronger programs in the valley. Dolan leads the team with the most kills, and Fergenti with the most digs.
For Coach Don Vanderbeck, a former player himself, volleyball has been a part of his life for over 25 years. He said, "The coaching bug started creeping back into my mind even though I had said my coaching career was over after Ramapo." Although this team consisted of rival schools, "The players put the rivalry aside and quickly became a team all looking to get better each day and become great teammates," said Vanderbeck.
During a match against Bergen Tech, Dolan had a career high of 17 kills which helped lead them to a victory. He said, "what's really great about our team is the depth of talent we have" which helps him share his success with the team.
Competing against their first varsity team, the team played Memorial High School, and came out with a 2-1 victory. They also beat Fairlawn and Hackensack with an impressive 2-0 win in both. Junior Danny Paltag said the team shared a "dominant mindset" which contributed to all their success.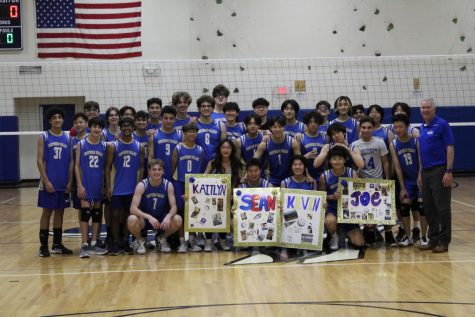 The team picked up a major win against Harrison on their senior night. "We were down by 15 points in the first set and made a comeback to win the set. We finished the second set clean with a score of 25-17," Yumul said. 
Since the team was established just this year, the volleyball journey for the three seniors was cut short. Senior Sean Kim said, "I would have loved to have had boys volleyball as a sport since my freshman year, however it is better late than never." 
The team is only losing three seniors, which leaves much room to grow. Next season the team will compete in the Freedom Division of the Big North where they hope to become champions.