#Wantmorein24
The Knights softball team wants more in future seasons but reflects on the 2023 season.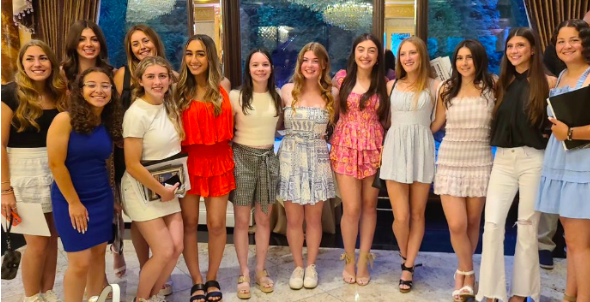 The Golden Knights softball team concluded their season with numerous goals achieved and high hopes for future years. With few returning starters and a seniorless team, underclassmen took responsibility for leadership roles on and off the field. The drive from the young players led to this year's accomplishments and strong foundation for next season.
Few upperclassmen leave more open opportunities for younger players to make themselves known. Team leaders consisted of primarily sophomores including Amelia Plescia with 35 runs and Mia Ferraro with 37 hits and 3 home runs. 
The two pitchers for the Knights softball team are both young but vigorous underclassmen. Like Plescia and Ferraro, sophomores Samantha Weyer and Jamie Farrington both contributed greatly to the game and title wins of the Softball 2023 season. This spring, Farrington averaged 7 strikeouts per game and had a season total of 176. 
Head Coach, Melissa Landeck, was the varsity assistant from the Spring of 1998 – 2000 then became the head coach in 2001 and has been in the position since. Landeck motivates each player and helps underclassmen rise to the varsity level they are expected to meet. "We asked the juniors to assume the leadership responsibilities. They worked at it and got better at it along the way.I think this will benefit them next season," Landeck said. 
With high hopes for next season, the 2024 team will consist of a few seniors along with well trained underclassmen. With older players and more experience next year, the girls aim to win the Big North Championship title for what will be their fourth straight year. The future team will be turned to upperclassmen, but the same drive and determination will remain on the field and up at bat.